Gold Positioning Extreme
Tuesday, 7/28/2015 18:55
Shorts never been shorter, hedge funds now net bearish overall...
LAST WEEK
I mentioned the extreme speculative positioning in the gold futures market and how it would probably get worse,
writes Greg Canavan in The Daily Reckoning Australia.
Data out on Friday confirmed this. According to the commitment of traders report, the 'managed money' category (which represents mostly hedge funds) is now short a record 121,000 gold futures contracts. Being short means you're betting on further falls, and will make money on price declines.
As I said last week, there is no reason why this number can't continue to grow and become even more extreme. When the herd moves, it moves in size.
It wasn't only the total short position hitting a record high last week. The 'net' position of the market also went into record territory, with hedge funds now holding a 'net short' position for the first time since records began in 2006.
That is, when you net out all long and short contracts (that is, the bulls minus the bears) the bears now have the upper hand.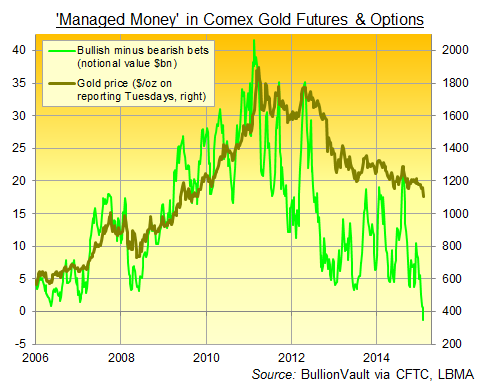 Bloomberg picked up on the news:
"Hedge funds are holding the first ever bet on a decline in gold prices since the US government started collecting the data in 2006.

"The funds and other speculators shifted to a net-short position of 11,345 contracts in New York futures and options in the week ended July 21, according to figures from the US Commodity Futures Trading Commission.

"Gold futures on Friday fell to the lowest since 2010 on the Comex, and the short wagers show investors expect the rout to deepen. Bullion has fallen almost every day in July, leaving the metal poised for the biggest monthly decline since June 2013."
You're seeing an increase in bearish articles on gold. You're seeing bearish bets on the metal increase to record levels. That tells you this market is getting close to a bottom.
It doesn't matter what market you're talking about, whether it's coffee beans or soya beans or stocks in Apple. Whenever anything seems so obvious that it's a sure bet, a turning point is close.
I don't know if this is the bottom for gold or whether it will first breach the US$1000 mark, as nearly everyone seems to expect. You could see another decent rally from here before the final, gut wrenching sell-off. But's it's getting close.
Gold benefited from some 'short-covering' in US trade on Friday on the back of renewed uncertainly about Greece. Short covering occurs when traders buy back the gold they had previously sold in order to 'cover' their position. This saw gold rally from just under US$1080 to around $1100 an ounce.
Still, gold (in US Dollars) is in a nasty downtrend. The path of least resistance is down. My guess is that you'll want to see something like a $50 an ounce short-covering rally to gain confidence that the market might be turning.