Mean Reversion Due in Gold
Monday, 12/12/2016 09:01
Gold looks technically oversold, ready for a price reversal...
AS I OFTEN say, every asset class has its own DNA of volatility, which is measured by standard deviation, writes Frank Holmes at US Global Investors.
Specifically, standard deviation gauges the typical fluctuation of a security or asset class around its mean return over a period of time ranging from one day to 12 months or more.
This brings us to mean reversion, which is the theory that, although prices might trend up for some time (as in a bull market), or fall (as in a bear market), they tend to move back toward their historic averages eventually. Such elasticity is the basis for knowing when an asset is overbought or oversold – and when to sell or buy.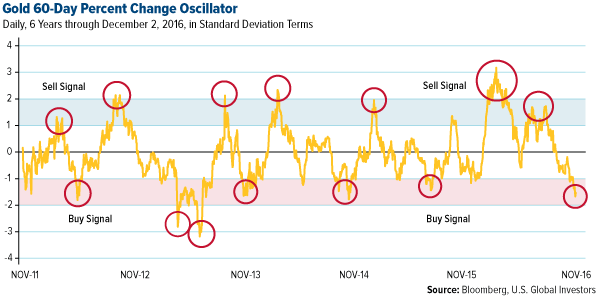 Gold's current standard deviation for the 60-day period is about 7%. You can reasonably expect it to move this much over a two-month period, with the odds suggesting that range 68% of the time.
So as you can see in the oscillator above, gold looks oversold right now and is nearing a "buy" signal, after which we can statistically expect it to return to its mean.