Major Gold Miners' Debt at Decade Low, 'Capex Needed' to Sustain Output
Thursday, 4/22/2021 21:06
Global gold mine output fell 2nd year running in 2020...
MAJOR GOLD MINERS remain highly cautious on new investments or capital expenditure according to leading analysts, using the record profit margins offered by last year's fresh all-time price highs to pay down debt to the lowest level in almost a decade.
"This represents a vastly different business model to the pre-2013 period," says specialist consultancy Metals Focus, "when companies were happy to incur growing levels of net debt and new equity to fund new projects."
Having hamstrung the major Western miners' balancesheets and stock prices since the M&A frenzy at the top of gold's 2000-2012 bull market, "Debt reduction is now largely complete," Metals Focus says, "which should allow for higher dividends" – now being paid by all 12 companies in the consultancy's
'peer group' of the largest producers
– "and may also encourage M&A activity in the sector."
Capex is needed however to sustain current output, itself continuing to slip among these major miners, because the expected lifespan of their as-yet unmined reserves has also been declining as repaying debt trumped fresh exploration or acquisitions, and "implies that gold mining companies have been under investing in reserve replacement."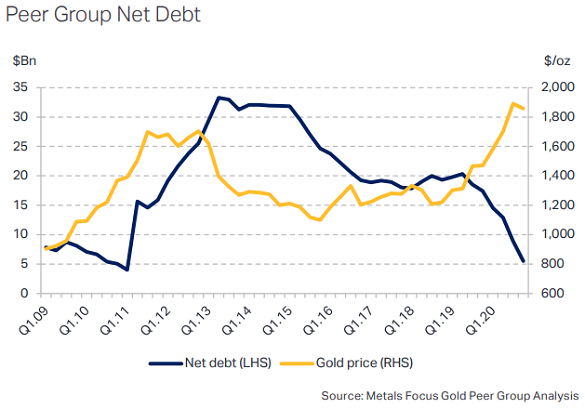 Gold mining worldwide produced 3,400 tonnes last year according to
data gathered by Metals Focus
for the industry's World Gold Council, taking the likely total of all the gold ever mined in history above 200,000 tonnes – less than the steel industry now produces every hour.
Top gold-mining nation China saw output slip another 3.9% to 365 tonnes, while No.2 Australia and No.3
Russia held little changed
at 327 tonnes and 340 tonnes respectively.
"When gold prices are high," said Dr.Sandra Close of analysts Surbiton Associates in February, reporting Australia's slight 2020 growth to new record output, "the grade of ore can be reduced but the mine can still remain profitable...[and] at the moment operators are producing much the same amount of gold from lower-grade material by increasing the throughput of their treatment plants.
"Looking to 2021, there are several new or recommissioned operations expected to join the list of producers."
2020 however marked the lowest annual global output since 2016 with the 2nd year of declines since
a run of 9 new records ended in 2018
, capping the longest stretch of year-on-year increases since 1980-1993.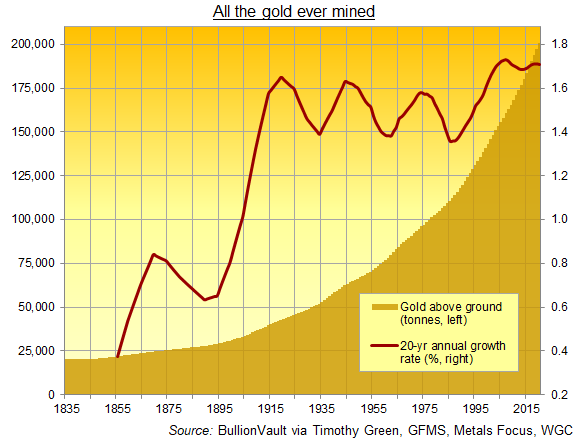 Gold miners as a group meantime closed out 65 tonnes' worth of price protection last year, leaving the
industry's global hedgebook
of future production already sold to lock in prices virtually flat from the end of 2010.
"In each of the previous runs above $1780," says a note from the precious-metals team at French bank and London market makers BNP Paribas, "our flow of business saw increased volumes of sales from gold producers.
Now "mainly tactical and patchy" BNP says, this potential rise in forward selling by gold miners wanting to lock in current prices has the capacity "to cap price strength".
First-quarter reports for 2021 are "generally in line with estimates" for the larger producers, BNP adds, "whilst some medium-size miners report better production figures than expected [and] indicate that the flow of available metal is large enough to feed 'comfortably' the market."