Gold-Mining Output 'Peaking' as New Drilling Retreats
Wednesday, 10/09/2019 17:54
Gold exploration spikes but falls on 2019 price rise...
GOLD MINING output will struggle to maintain last year's all-time record says new analysis, thanks to the collapse of exploration spending after prices fell hard from their bull market peak of 2011.
Global gold output expanded in 2018 for the 10th year running, setting yet another all-time high on continued growth in
artisanal and small-scale mining
(ASM) in the developing world.
But the formal sector of stockmarket-listed miners now faces a "very real possibility" of
Peak Gold
– the theory taken from 1950s' oil-market analysis predicting a surge and then terminal decline in annual output – according to consultants
Wood Mackenzie
.
Gold-mining shares have outperformed gold's strong 2019 gains to date, rising over 26% since New Year on the NYSE Arca Gold Bugs Index (INDEXNYSEGIS: HUI) against the 21% rise in physical bullion prices.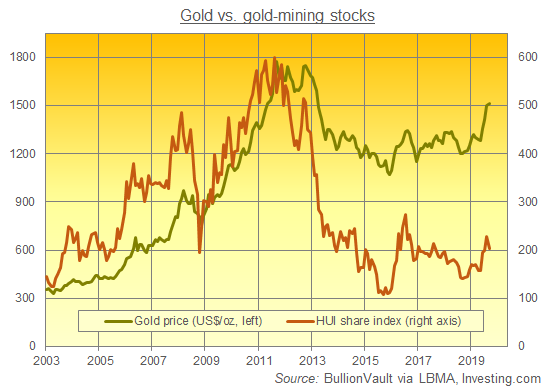 As forecast almost a half-century earlier by oil-analyst M.King Hubbert, crude oil production did peak and slip from the year 2000. But it
grew 10% larger
than that by 2018, with the amount of energy available from crude oil output
some 16% greater
thanks to technological efficiencies.
Separate analysis from ratings agency S&P's Market Intelligence division says pipeline activity in the gold-mining sector
retreated by one-quarter last month
after doubling in August, as new drilling for gold fell back to levels seen earlier this year.
Gold however still dominates new mining projects worldwide, accounting for 7 out of 13 initial resource announcements from listed companies over the last 2 months.
"This has not been sufficient to replenish mined ounces and, as such, peak gold supply is now a very real possibility."
The average life of a gold mine worldwide now stands at 11 years on the consultancy's analysis, down from 16 years when gold prices set their record annual average in US Dollar terms 2012.
In contrast to exploration spending – and despite the
absence of Chinese deals in 2019
so far – mergers and acquisitions have surged in the sector, jumping over the last 12 months on the two
"mega mergers" in gold mining
of No.1 Barrick with No.15 Randgold to form Barrick Gold (NYSE: GOLD) and then No.2 Newmont with No.4 GoldCorp to form Newmont Goldcorp (NYSE: NEM)
Both of the merged gold-mining giants showed a valuation of $32.6 billion in New York's stock market on Wednesday. "Both companies [also] have a dismal record of producing less and less gold per share in issue," said independent consultancy Metals Focus in a note this summer commenting on the "merger mania" at Barrick and Newmont.
Indeed, "Showing this ratio was a favourite at Randgold Resource presentations" from now-Barrick CEO Mark Bristow, Metals Focus goes on – "which, needless to say, had a fantastic record of increasing production and was a key differentiator.
"This ratio, among many others we monitor closely, will be a yardstick for success or otherwise of these mergers."
The trend of increased M&A among listed gold miners is meantime likely to continue says Wood Mackenzie, "particularly amongst mid-tier gold producers" wanting to secure their position within the industry.