Gold Mining Stocks Appear to Have Decoupled
Monday, 3/19/2012 14:36
Shares in Gold Mining companies have diverged from the broader market...
DECOUPLING from the stock market is usually a good thing, writes Jordan Roy-Byrne for The Daily Gold.
In recent turbulent times, many have wondered if emerging markets would decouple or if gold stocks would decouple. It is surprising to see Gold Mining stocks decouple from a strong stock market. Many wondered if the sector would decouple from a weak market. Yet, the decoupling now could be positive long-term provided the decoupling continues and the stock market peaks just below the 2007-2008 highs.
Below we plot the S&P 500 and the HUI Gold Bugs Index. At the bottom we show the 100-day correlation between the two markets. Note that the correlation has been trending down since the end of 2010. The broad stock market (S&P 500) appears to be headed for a test of major resistance at 1500 while the large cap gold stocks just closed at a 52-week low.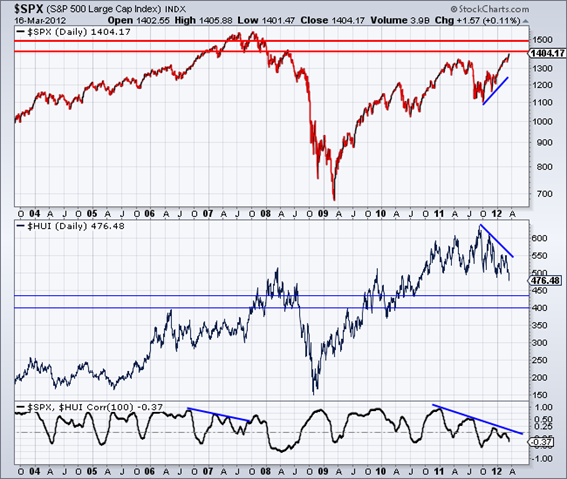 Although large cap gold stocks have closed at a new low, the rest of the sector has not followed suit. The chart below shows GDXJ, the CDNX (Canadian venture exchange) and SIL (silver stocks ETF). While the HUI has closed at a new low, the other markets remain well above their December lows. The CDNX and SIL are showing a strong divergence since October.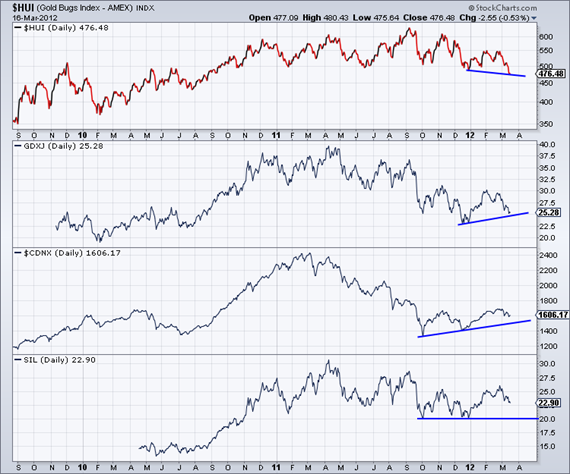 Should most of the precious metals sector hold its December lows then it will be very encouraging for the sector even with the large caps breaking to new lows. One can recall 2007-2008 when the speculative side of the sector fell to new lows well ahead of the metals and the large cap gold stocks. One should also keep the 1970s in mind. Large cap miners experienced significant gains at the start of the bull market but not at the end. Sure, the large caps performed well from 1974-1980 but it was the speculative side of the sector that captured the vast majority of the gains.
Presently, the precious metals sector has underperformed badly as the stock market has continued to move higher. It is highly unlikely the S&P 500 is going to make new highs. In fact, in two of the previous three secular bear markets, the market in the second half of the bear rallied to within 5% of the all-time high before falling back into a mild 4-5 year bear market. This happened in 1909 and 1976. Profit margins, the most mean-reverting statistic in finance, are already at record highs. Higher interest rates and higher inflation will cut into profit margins.
Buy investment-grade physical gold at the lowest price possible when you Buy Gold through BullionVault...