Miners Lead Gold
Monday, 10/31/2016 10:01
...says this technical reading of the charts...
YOU HAVE heard it before from us and probably elsewhere, writes Jordan Roy-Byrne at The Daily Gold.
The miners lead gold. We have seen this every major turn dating back 16 years and it can also be the case with respect to short and medium term trends.
So while the precious metals sector has rallied over the past few weeks, the rally has been weak and the gold stocks relative weakness in recent days bodes negatively for the sector.
Consider the daily chart (below) and the overall performance from last week.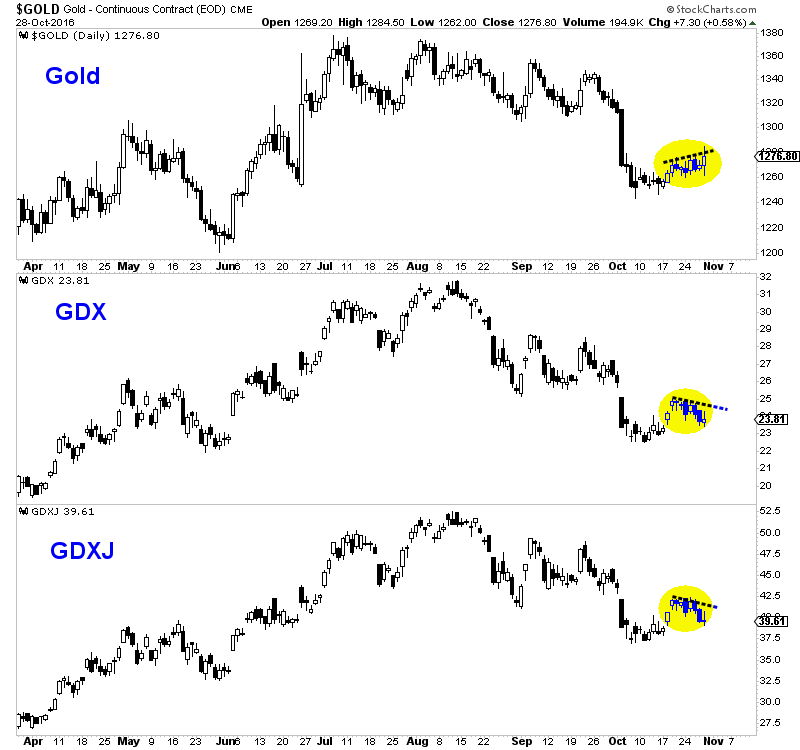 Gold gained $9 per ounce or 0.7% on the week but GDX and GDXJ lost 3.3% and 5.3% on the week. Silver gained 1.7% on the week while the silver miners index SIL lost 4%.
More importantly, the gold stocks peaked seven sessions ago and are trading 4-5% below that peak while gold closed Friday at its highest level in October. This is not the type of action typical of a sustainable rebound.
As a result, we are looking for the gold stocks to trade lower and make an important low in the days or weeks to come.
Two weeks ago we wrote of a confluence of downside support at GDX $22 and GDXJ $34-$35. The weekly candle charts below show very strong horizontal support targets a tad lower at GDX $21 and GDXJ $33. Roughly speaking, this indicates potentially 10% downside in GDX and 15% downside in GDXJ.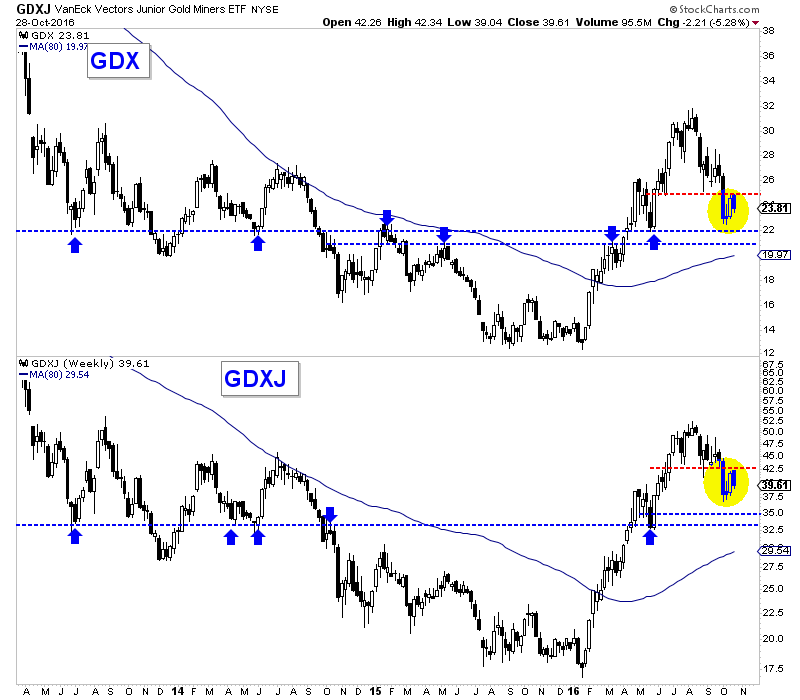 Unless the gold mining stocks are suddenly able to rally above the highs from seven sessions ago, they figure to retest recent corrective lows and perhaps make new lows. However, lower prices should lead to an excellent buying opportunity.
This correction could end up like the 2002 correction in terms of price and the 2001 correction in terms of time. We are currently hedged and will redeploy that cash when the buying opportunity comes.