Gold Miner Hedging 'Strongest Since 1990s' on Price Jump
Thursday, 4/28/2016 17:42
Newcrest's Telfer protection takes global gold miner hedgebook to highest level since 2009...
GOLD MINER hedging to lock in current prices is seeing the sharpest uptrend since the bear market of two decades ago, according to leading market analysts.
Gold prices rose between January and March 2016 at the fastest pace in 30 years. At least six mining companies used the rise to sell future production, says a new quarterly report from specialist analysts Thomson Reuters GFMS.
Gold's largest single producer however, Barrick Gold (NYSE:ABX), saw its Q1 output drop sharply from the first three months of last year.
"Following a handful of hedges in the second half of 2015," says the GFMS Gold 2016 Q1 Update, "the overall scale of increase [in the first quarter] remains dwarfed by the mid-2014 increase" from the privately-owned Russian miner Polyus Gold.
But "considering the number of companies involved," the note goes on, "this more recent bout of activity points to the strongest hedging trend since the 1990s."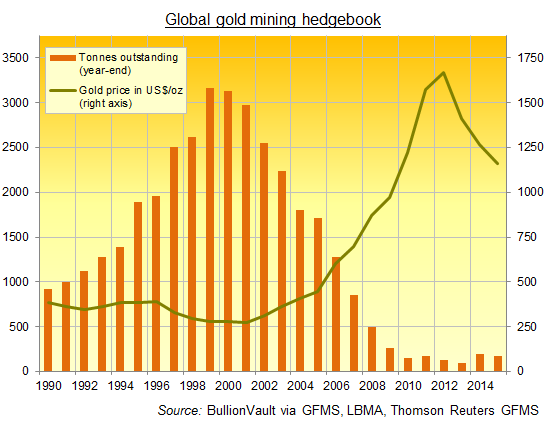 Net of deliveries to meet existing forward sales, the global producer hedge book grew by 16 tonnes in Q1 2016 on GFMS's data, taking it to the highest level since 2009 at 230 tonnes-worth of metal now sold forward or offered for sale through option contracts.
The largest single hedge was put on by world No.6 producer Newcrest (ASX:NCM), which
over the month of March sold half
the next 30 months' likely output from its Telfer project, locking in a record-high Australian Dollar price of A$1737 per ounce on some 17 tonnes of metal.
Back in 2014
, forward sales by Polyus and London-listed Fresnillo (LON:FRES) together added 103 tonnes of forward sales to the global hedgebook – then equal to some 3% of annual world output.
Formerly called Peter Hambro Mining, POG rose almost 4% in morning trade in London, but remained 98.5% below its peak of a decade ago.
Amongst $40 billion of merger and acquisition deals in the mining sector worldwide last year – down 10% from 2014 – "Gold was [again] the most targeted by both volume and value," says the
latest M&A analysis from consultants Ernst & Young
's specialist mining and minerals team.
"Assets being divested by distressed sellers will continue to come to market during 2016."
World No.1 gold mining company Barrick – a key driver of the record-high global hedge book built during the 1990s' bear market, which then
bought back those sales as prices surged
during the financial crisis – said yesterday that its Q1 output fell 8% after calendar-year 2015 showed a 2% drop.
No.4 Goldcorp (NYSE:GG) in contrast said it grew production by 8% in the first quarter of 2016 versus the January-to-March period last year, with all-in sustaining costs dropping 5.5% in US Dollar terms to $836 per ounce.
No.2 producer Newmont (NYSE:NEM) extended last year's 4% rise in gold output with a 3.3% rise for January-to-March compared with the same period in 2015.
World No.5 gold miner Kinross (TSE:K) and No.3 Anglogold Ashanti (JSE:ANG) are both due to report Q1 earnings in early May.