Hip-Hip Harrumph
Tuesday, 2/05/2013 09:13
Gold Investor Index gives only half-a-cheer to mixed economic data...
EQUITIES stand at 5-year highs and January was the best month for stocks since before Gulf War I, writes Adrian Ash at BullionVault.
Yet self-directed private investors continued to Buy Gold last month, albeit slightly fewer of them and at a slower pace. That's according to the Gold Investor Index here at BullionVault – the monthly measure of Western household sentiment in physical gold, as revealed by the trading activity of our 44,800 users.
Showing the balance of net buyers over net sellers across the month, the Gold Investor Index reveals how independent savers are reacting to the economic and financial news – the same news apparently driving US and UK equities so much higher.
All these self-directed investors can manage, however, is a half-cheer for New Year 2013's economic outlook. Contrast that with the euphoria coursing through Wall Street and the City, and the need for crisis insurance is still keenly felt.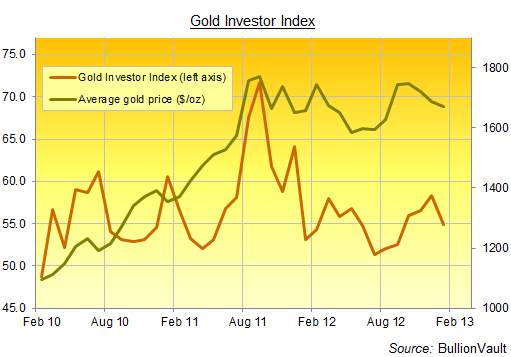 The Gold Investor index takes the balance of net buyers – who added to their holdings – versus net sellers over the last calendar month on BullionVault, the world's largest direct provider of physical gold ownership to private individuals.
The index then shows that figure as a proportion of all existing gold owners at BullionVault – any of whom could have chosen to buy more, reduce their allocation, or maintain their holding. It is rebased so that a perfect balance of buyers and sellers would give a reading of 50.0
The Gold Investor Index therefore shows you whether more people are buying or selling gold, or choosing to sit tight. And with January 2013 delivering first a multi-month low in Dollar gold prices, followed by the best start to the year for the US stock market since 1989 – and all with gold analysts slashing their price forecasts – we think it's signal that Western households continued to add gold, albeit at a slower pace.
The Gold Investor Index dipped in January 2013 to 54.9 after rising for six months running to hit 58.3 at the end of 2012.
So savers' anxiety levels have plainly eased from end-2012 – when the index hit a 12-month high. But the need for long-term financial protection remains clear and present amongst those private households in the UK, US and Eurozone (where 89% of Bullion Vault users live) who actively take charge of their personal finances.