Gold Buying Yes, Selling No
Tuesday, 11/05/2013 09:02
Gold Investor Index shows investor selling retreating further as price steadies...
The NUMBER of BullionVault users starting or adding to their gold holding increased slightly from September last month, writes Adrian Ash, head of research.
But it was a 15% drop in the number of net sellers which pushed the Gold Investor Index higher in October, up to its highest level since April.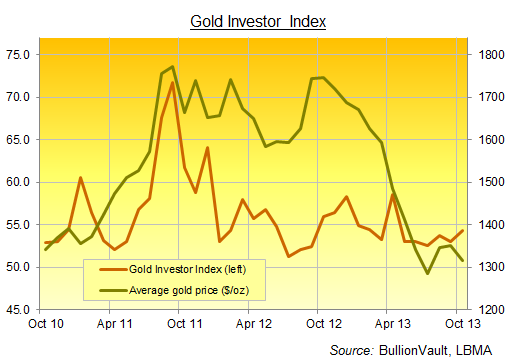 Overall, net gold buyers outnumbered sellers better than two-to-one on BullionVault in October.
That took our index – which measures the balance of private investors adding to their gold holdings over those who reduce them on BullionVault, the world's biggest exchange for gold and silver online – up to a 6-month high of 54.3 from 53.0 in September.
The Gold Investor Index peaked at 71.7 in September 2011. A reading of 50.0 would signal a perfect balance of net buyers and sellers.
Of course, with world stock markets hitting 5-year highs, it should have been no surprise to gold prices edging lower. Average monthly gold prices have now fallen in 10 of the last 12 months – something not seen since the bull market began in early 2001.
But Washington's short-term fix to the debt ceiling confirms there's no will to tackle spending or money printing long term. And with the insurance value of gold ownership being confirmed, October's drop in its price let savers build their insurance at lower cost.