Gold Investor Index Slips to 5-Month Low
Tuesday, 3/05/2013 09:12
Professional money turning bearish. But the smart money...?
WITH stock markets rising this New Year, it's natural for gold prices to struggle, writes Adrian Ash at BullionVault.
Bond-market interest rates have also crept higher, just about offering a positive yield after you account for inflation.
But as the latest Gold Investor Index from BullionVault shows, a growing number of self-directed investors continue to lose patience with central-bank policy. It's hard to see that changing with household deposit rates near zero and the debt crisis still so far from resolved.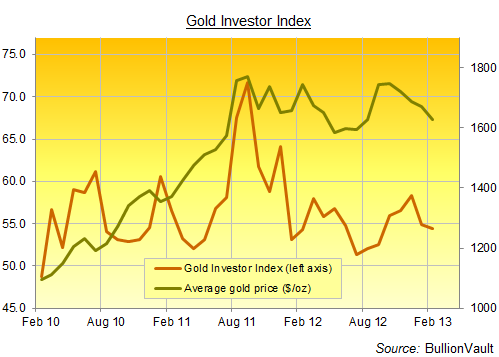 The Gold Investor Index measures the balance of buyers and sellers on BullionVault, the online exchange where live trading in physical gold is settled instantly in the user's choice of New York, London or Zurich vaults.
A reading of 50 would a perfect match betweent the number of people buying and the number of people selling. The index peaked at 71.7 in September 2011.
And last month it dropped from 54.9 in January to 54.4 – virtually the same level as in February 2012.
So despite an increasingly bearish outlook amongst professional money managers, private individuals are continuing to feel positive about gold as an investment option. Nor did February see any reduction in BullionVault users' combined holdings, still at 32.9 tonnes and larger than the gold reserves at most of the world's central banks.
In short, households across Western Europe and North America – where 89.6% of BullionVault's 45,000 users live – show less confidence in the wider economy than Wall Street or the City.