Western Savers Hedging Anxiety with Gold
Tuesday, 1/08/2013 11:06
BullionVault's Gold Investor Index rises for 5th month in succession to 1-year high...
GOLD TENDS to act as insurance against monetary or financial crisis, writes Ben Traynor, economist at BullionVault. So if you're optimistic about the economy in 2013, you're less likely to want to buy gold.
Yet in fact, what we're seeing on BullionVault is that people are increasingly concerned about high debt levels and loose central bank policy. These trends could lead to higher inflation down the road. People are Buying Gold to hedge that risk.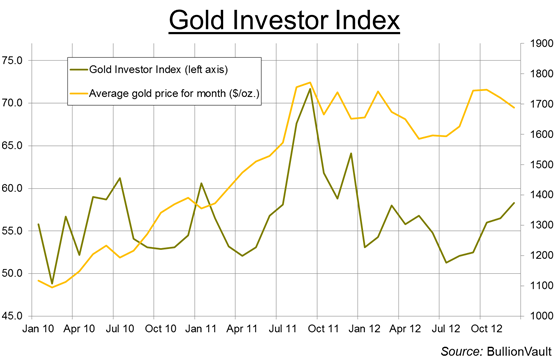 Based on actual transaction data from BullionVault – the world's leading bullion provider to private investors, with more than 44,000 users today – the Gold Investor Index shows whether more people are buying or selling gold, or choosing to sit tight.
A reading of 50 would indicate an equal number of buyers and sellers on BullionVault's precious-metals exchange, while a reading above 50 indicates more buyers than sellers. And this monthly indicator ended 2012 at 58.3, up from 56.5 in November and reaching its highest level since December 2011 after showing the fifth rise in succession.
Why does this data-point matter? Gold has over the last decade gone from barbarous relic to beating all other major asset classes hands down. It's made headlines throughout the financial crisis to date. It's clearly become a big consideration for all savers and investors of whatever means. And because gold investment is so plainly a marker of consumer confidence and expectations, our Gold Investor Index – based solely on actual trades made on the world's biggest private-investor platform for physical gold – also offers a strong indicator of broader economic sentiment as well.
As Bloomberg News notes, 90% of BullionVault users live in the United States, Eurozone or United Kingdom. So despite the comparative jump in more "traditional", mainstream Western asset prices in 2012 – most notably the US stock market, up 13% for the year – private households continue to feel anxious about the financial outlook.
With the financial crisis now more than 5 years old, we think it's small wonder that a growing number of people continue to hedge that anxiety with physical gold bullion.