Gold Replays 2013 Price Crash. So Does Private Gold Sentiment
Tuesday, 10/07/2014 09:04
Self-directed Western investors' gold sentiment leaps to 7-month high as price drops...
The GOLD PRICE, after a quiet summer, last month delivered the sharpest Dollar drop since 2013's crash found its floor, writes Adrian Ash at BullionVault.
Private Western investors reacted the same way as last year too, with buyers outnumbering sellers to push our Gold Investor Index up to a 7-month, rising at the fastest pace since April 2013.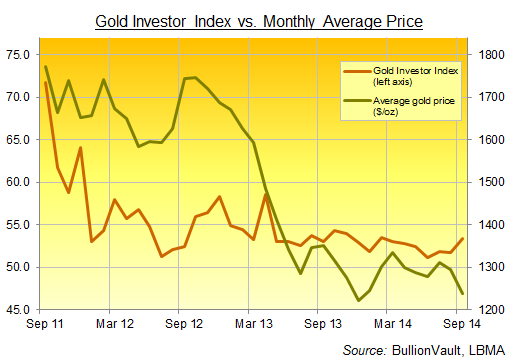 The Gold Investor Index is calculated using proprietary data from BullionVault, the 24-hour precious metals exchange which leads the online market for physical bullion.
Instead of surveying intentions, the index shows the balance of net buyers over net sellers across the month as a proportion of all gold owners at the start, rebased to 50.
To learn more, see
this May 2013 article
in the London Bullion Market Association's
Alchemist
magazine. The chart above shows how the Gold Investor Index has varied over the last three years.
As you can see, the balance of buyers over sellers jumped during gold's spring 2013 crash. It rose sharply again last month. But while the number of people choosing to hedge against financial risk with gold's lower-cost insurance continues to grow, it must be said: Whether from Asian jewelry buyers or self-directed Western investors, a gold market led by bargain-hunting alone cannot run sharply higher.
September typically sees Dollar gold prices rise. It remains the best-performing month historically since 1968. But gold last month lost 5.8% to $1216 per ounce, the sharpest month-end drop since June 2013.
Back then, Dollar prices fell 14.5% to hit $1180 per ounce – then a 3-year low – capping a quarterly plunge of some 25%. The spring 2013 gold crash unleashed a surge of private investors wanting to buy. But these new buyers each tended to buy smaller amounts than those existing holders who sold.
September 2014's new discounts in Sterling and Euro terms were more muted. Because those currencies also slipped against the Dollar. Gold ended the third quarter of 2014 at 3-months of £750 and €964 per ounce, down 3.7% and 1.7% respectively from the last day of August. But the reaction amongst self-directed investors was the same – a jump in the number of bargain-hunters using BullionVault to buy gold both from North America and Western Europe.
By weight, and in contrast to the spring 2013 crash, that also led to a further rise in the total quantity of gold bullion now held by Bullionvault users...up 0.3% to new records near 33.2 tonnes. Again, this marks a stark contrast to what money managers are doing with gold. Exchange-traded gold trust funds (gold ETFs) saw monthly outflow of $1.67 billion, according to the Markit data agency – the biggest this year. Leveraged speculators betting on prices through Comex futures and options meantime slashed their net bullishness nearly 50% to the lowest level of 2014 so far.
For now then, the running in prices is being dictated by money managers continuing to cut allocations, or grow their betting against gold going higher.
Self-directed private investors, on the other hand, continue to buy the dips. They are, after all, managing their own money and their own risk.