Gold Investment Positive, But Only Just
Tuesday, 9/02/2014 09:06
Summer 2014 sees larger accounts adding gold, but "safe haven" demand still missing...
GOLD INVESTMENT demand held positive last month, but only just, writes Adrian Ash at BullionVault.
Geopolitics has nothing to do with it. The lesser-spotted "safe haven" demand for gold is notable by its absence, despite the unholy mess in Ukraine, Gaza and Iraq.
Who says? Real investor activity does. Bullionvault is the world's largest gold and silver exchange online. Our Gold Investor Index measures the number of people using BullionVault to grow their gold holdings over those who cut or sold entirely during the last month.
The index isn't a survey of intentions or plans. It is calculated solely from real investment activity in physical gold bullion.
A reading of 50.0 would signal a perfect balance of net buyers and net sellers across the month. The peak to date was at 71.7 in September 2011. And in August 2014, the Gold Investor Index edged back to 51.7 from July's rise to 51.9 – the first rise since February, and only a little above June's 4.5-year low at 51.2.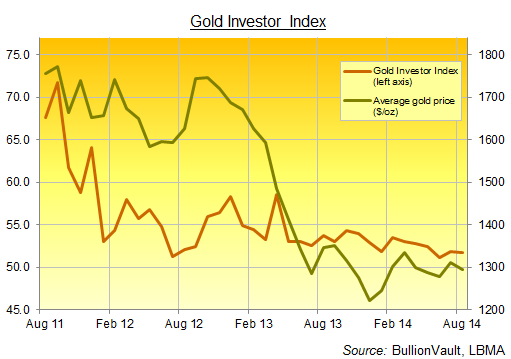 Gold investment also stayed positive last month by weight. Indeed, BullionVault customers as a group added gold for the third month in succession – the longest such stretch since New Year 2013.
But while the quantity of client gold grew (with Far East storage the stand-out choice), it grew by only 50 kilograms. That took the aggregate across London, New York, Singapore, Toronto and Zurich to a new record for our 10-year old business of 33.1 tonnes.
So private investors do continue to grow their holdings. Coupled with that low reading on the Gold Investor Index however, it's clear that larger accounts are leading – just as they did in June and July. The mass of private investment cash is leaving gold by the wayside, and continues to opt for equities at record or near-record prices instead.
Yes, concerns over the equity market are growing. Eurozone investors tell us they're also increasingly anxious about the shift to money-printing QE set to start in Frankfurt this autumn. But contrary to newswire journalists (or rather, their headlining editors), both prices and gold investment demand remain unmoved by today's geopolitics.
Argentina's default, the death toll in Gaza, LOL jihadis in Iraq...nothing shook gold from its summer slumber. In case you missed it – because you passed out with boredeom – this is how tedious precious metals became in August 2014...
Gold traded in the narrowest monthly price range for five years, a mere $40 per ounce;
The monthly average price of $1296 was almost precisely the average gold price of the previous 12 months ($1297.50);
Speculators and commercial traders both cut their holdings of Comex futures & options. In fact, open interest (ie, the number of contracts now open) fell to a series of 5-year lows;
Investment funds also shrugged and took to the beach. The giant SPDR Gold Trust (NYSEArca:GLD) shrank by 6 tonnes, reversing July's addition and erasing all 2014 growth so far at 795 tonnes – a 5-year low when first hit this January.
Why no gold investing surge on summer 2014's geopolitical headlines?
History shows gold offers you financial insurance, not a speculation on other people's troubles. So it's worth noting that – while gold priced in Dollars ended August unchanged from July at $1285 per ounce – it rose 1.6% for Euro investors and 1.8% against the British Pound.
Trouble ahead for the UK and Europe? If only gold investment were that simple. But with geopolitics leaving prices and demand unmoved, longer-term investors...wanting to book a little of that financial insurance for their own savings...do continue to quietly and steadily accumulate metal.
That insurance is one-third cheaper now that it was at the peak of the financial crisis (2011 in Dollars and Sterling, 2012 for the Euro). Gold has been flat for the last year. A small group of investors are choosing to make their own decisions...instead of relying on headlines of death and destruction elsewhere for their cue.