Gold Investment Sentiment Rises 1st Time Since Feb
Tuesday, 8/05/2014 09:00
Record-high gold investment jars with near 5-year low in gold sentiment...
GOLD INVESTMENT is boring right now – at least according to the mass of public opinion, writes Adrian Ash at Bullionvault.
Larger private investors beg to differ, however.
On BullionVault's Gold Investor Index, which measures the number of people buying gold versus those selling across the month, sentiment improved in July from June's 52-month low. But not much.
The index rose only to 51.9 from 51.2 in midsummer. It was the first upturn in gold sentiment amongst the self-directed investing public since February.
Yet gold investment holdings through Bullionvault rose in contrast to new all-time highs by weight. Because while the balance of buyers over sellers was small, those buyers were busy.
Bullionvault's total client holdings by weight rose to a new record at 33.0 tonnes in July...greater than the gold reserves of Hong Kong, Ireland, Qatar and the Czech Republic combined. All that investment-grade bullion is privately owned and vaulted in specialist non-bank custody in 5 global locations.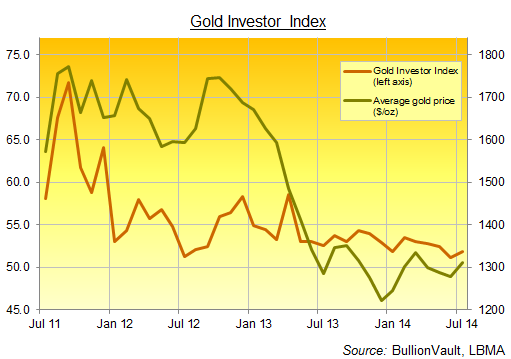 Based solely on investor activity, rather than surveyed intentions, BullionVault's Gold Investor Index – calculated from the world's largest pool of real-time physical gold investing decisions online (
Fear, Delusion & the Gold Investor Index
) – peaked at 71.7 when the metal hit $1900 per ounce in September 2011. A reading of 50.0 would indicate an equal number of buyers and sellers across the month.
So as you can see, comparing the index with BullionVault's total client holdings, gold continues to see a return of larger allocations, but the broader public remains shy of investing despite this year's jump in geopolitical risk.
People using BullionVault to trade gold have now bought back what was sold during 2013's price crash. Fewer big sellers last year outweighed demand from new investors. This year has seen the reverse so far.
For investors wanting to diversify risk by location as well as asset, Zurich remains the stand-out choice among BullionVault users, but Singapore continues to grow fast.
Zurich trading and storage was opened when BullionVault launched in April 2005. The Swiss location now holds 24.3 tonnes of gold – around 73% of client gold property, but still below its record 25.0 tonnes of March 2013.
Far Eastern storage was launched in March 2013, vaulting inside the Singapore Freeport. It now holds 1.0 tonne of physical gold belonging to BullionVault users (some 3% of client gold). Holdings in both New York (2%) and London (20%) have slipped in 2014 so far. Toronto storage was added in August last year, and now holds 0.3 tonnes (1%).
Starting from a then-record total of 32.9 tonnes at the end of March 2013, Bullionvault users liquidated 1.2 tonnes net over the following three months as prices fell 25% to hit a three-year low of $1180 – a level seen again at New Year.
So what's going on? Why are larger gold BullionVault accounts adding metal while the broader investing public stands aside? The price-crash of 2013 gave a hard lesson in how gold can move when other asset classes do well. Yet by the same token, investment gold prices ended July 2014 at $1285 per ounce, beating all other major asset classes for 2014 so far but erasing half of June's 5% gain.
Moreover, and while other financial markets also continue to ignore ceaseless headlines of death and destruction in the Middle East and Western-Russian saber-rattling over Ukraine, BullionVault users are increasingly worried by geopolitical risk. That's what they tell us when we speak directly, and also what they said in a recent survey we conducted.
More details on that to come. For now, larger customers of Bullionvault are pointing against the
risk oblivion of professional fund managers
. That latter group, like the mass of public opinion, just isn't interested in gold. Not yet. Straw in the wind, perhaps. But larger private allocations too gold investing led the bull market starting 2001 and accelerating through the Iraq Invasion to the financial crisis. A growing handful of larger investors are buying gold early and often again in summer 2014.