Gold Investing Hits 5-Year High on 2017 Risks
Tuesday, 12/06/2016 09:10
Private gold investing demand looks beyond 'Trump dump' to 2017...
GOLD INVESTING sentiment amongst Western investors leapt to a 5-year high in November, with the drop in prices after Donald Trump won the 2017 US presidency spurring the strongest net demand for physical gold since the end of 2011, writes BullionVault head of research Adrian Ash.
BullionVault, the world-leading internet and smartphone platform for trading physical precious metals, last month saw the number of people starting or adding to their personal gold holdings rise 29.8% from October. The number reducing their investment rose 8.3%.
That pushed BullionVault's index of sentiment – as revealed by actual buying and selling amongst the world's largest pool of private precious metals investors – to its highest level since December 2011, when the global financial crisis was peaking.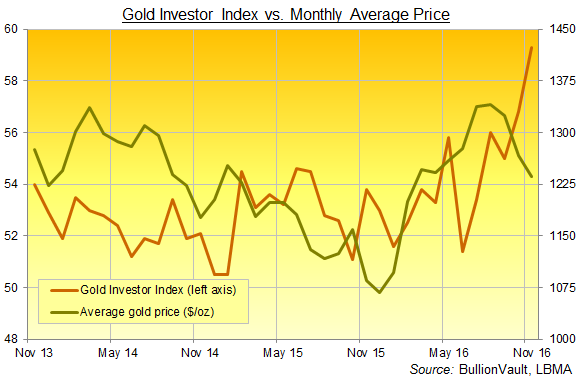 The Gold Investor Index measures the balance of private investors starting or growing their gold holdings over those reducing them. It jumped to 59.3 last month from 56.8 in October, extending 2016's strong upturn.
The index would read 50.0 if the number of net buyers exactly matched the number of net sellers across the month. It hit a series peak of 71.7 in September 2011, and
bottomed at 50.5 over winter 2014/2015
.
So while 2016 continues to shock the consensus, and while it's now become gold's turn for an upset following the US election, private investors are looking beyond the 'Trump dump' in gold prices to buy what many see as financial insurance at what looks a good discount given the risks ahead.
2017 will find GDP growth struggling to maintain this year's pace. The hardening reality of Brexit and US protectionism will likely add to volatility around key points of investment stress, led by the French and German elections.
Given those 2017 risks, gold investing demand – net of client selling – grew in November at the strongest pace since November 2011, adding 0.8 tonnes to BullionVault users' holdings for a new record total of 37.1 tonnes.
Compared to national central banks,
BullionVault clients
are now the world's 47th largest holders of gold, owning a new record 37.1 tonnes between them worth more than $1.4 billion (£1.1bn, €1.3bn) at this morning's prices.
Launched in 2005 and now used by more than 64,000 people and businesses across 183 countries, BullionVault.com enables private investors to access the low costs of the wholesale gold and silver markets.
Trading as little as 1 gram at a time using BullionVault's website or smartphone apps, investors cut their costs by four-fifths or more versus traditional 'retail' bullion products such as coins and small bars.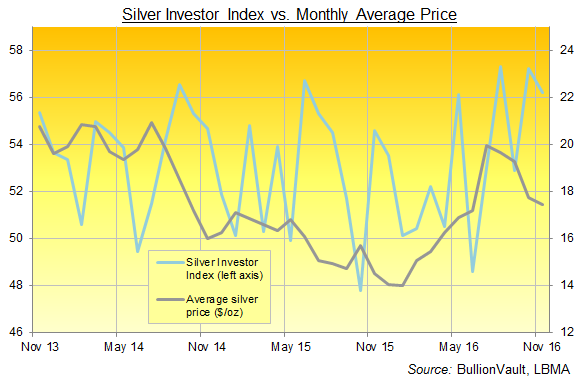 In contrast to gold sentiment, BullionVault's Silver Investor Index retreated from October's level near 3-year highs, dropping from 57.2 to read 56.2 across last month.
By weight however, BullionVault users added 11.7 tonnes of silver to their holdings in November – the sixth double-digit tonnage addition of 2016 so far – taking the total to a new record above 644 tonnes, some 18% larger from the end of last year.
As the Dollar rose yet again with US equities in November, silver prices also fell with gold in November, but only to the lowest level since June.
Money managers and hedge funds have
cut their gold ETF positions and quit
their bullish bets on Comex futures and options. Gold is set to start 2017 just as it started 2016 – the contrarian investment trade against a consensus that is fast-becoming complacent.