Gold Investing Hits 2012 Level Post-Brexit
Tuesday, 9/06/2016 09:04
4-year record in private gold investing as BullionVault users add half-a-tonne...
GOLD INVESTING
by private savers hit the heaviest level since end-2012 in August, with customers of
BullionVault
adding nearly half-a-tonne to their aggregate holdings as price gains eased following the UK's Brexit referendum shock,
writes Adrian Ash at the world leading gold-trading platform.
Net purchases of 470kg – almost entirely in Zurich storage rather than the other BullionVault choices of London, New York, Singapore or Toronto – took
client gold holdings
to a new record total of 35.7 tonnes.
Worth $1.5 billion, that's more than most of the world's central banks hold, and larger than all but 12 of the world's
84 gold-backed ETF
trust fund products.
Last time net gold investing demand was this strong, prices were retreating hard from the late 2012 rally. August 2016 in contrast marked the fourth time running that average monthly gold prices rose against the Dollar, a pattern not seen since the metal peaked with the global financial crisis in summer 2011.
August 2016's average monthly price did rise only 0.3% in Dollar terms however, the slowest gain since April. So while the number of private investors starting or growing their holdings slipped 6% last month from July, the number of people reducing or selling entirely sank 49%.
That split pushed BullionVault's Gold Investor Index up to a new 3-year high of 56.0 from July's 53.4, breaking May's previous 3-year high to reach its highest level since April 2013.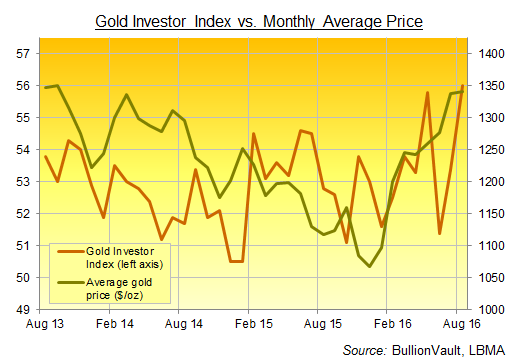 The Gold Investor Index provides a unique window on private-investing sentiment in physical bullion.
Using proprietary data from BullionVault, the 24-hour precious metals exchange online, the series show the balance of net buyers over net sellers across the month as a proportion of all owners at the start, rebased to 50.
The Gold Investor Index hit a series peak of 71.7 in September 2011, and bottomed at 50.5 over winter 2014/2015. These figures
complement other gold and silver market data
, showing revealed preference – not survey-based 'intentions' – amongst the world's largest single pool of self-directed bullion investors.
Continued silver investing also met a drop in selling this August as month-average prices eased 1.5% lower from the summer's jump to 2-year highs following the Brexit vote.
Falling 6% from July, the number of private investors starting or adding to their silver holdings last month met a 47% drop in the number of sellers.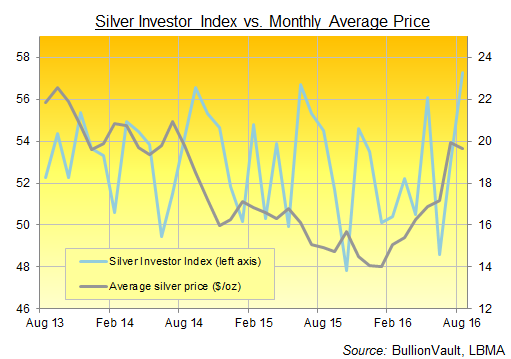 That pushed the Silver Investor Index sharply higher from 53.0 to 57.3 last month, also its highest reading since the precious-metals' price crash of April 2013 unleashed a wave of demand.
Client silver holdings grew 1.8% by weight, adding more than 11 tonnes to a new record 614 tonnes worth $370m.