Gold Investing's "Summer Lull" Ends with a Bang
Tuesday, 9/03/2013 09:00
Investing jumps into autumn, says Gold Investor Index, as price erases June crash...
ALL about Syria? asks Adrian Ash at BullionVault, the online gold and silver exchange.
Gold investing sentiment was positive all summer long amongst Western savers says our Gold Investor Index.
Holding above the 50 level since February 2010 in fact, it shows the balance of private investors choosing to buy gold held stronger from June to August 2013 than it did over those same months last year.
The summer typically does mark a "lull" in gold investing, however. And yes, with the Syrian crisis adding to fresh worries over the US debt-ceiling impasse, the Gold Investor Index rose in August to its best level since April's 16-month high.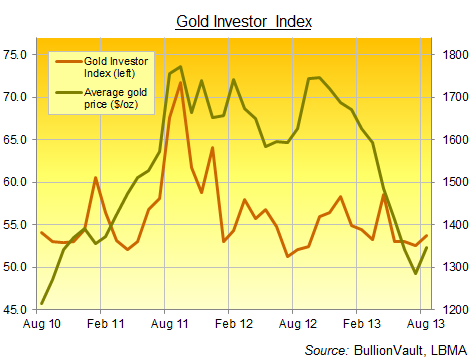 The Fed's taper talk meantime did nothing for cash savers besides denting bond and stock investments. Oh, and sparking a rout in emerging markets.
So summer 2013 ended with a stark reminder of the risks which people choose gold investing to defend against. And as the price of gold recovered to $1400 per ounce, erasing the last of June's 15% plunge, we saw BullionVault's measure of investor sentiment rise to 53.8 from July's 10-month low of 52.6.
The Gold Investor Index measures the balance of gold buyers versus sellers on BullionVault's peer-to-peer metals exchange, the world's largest provider of physical bullion ownership online. It peaked at 71.7 in September 2011. A reading of 50.0 would signal a perfect balance of buyers and sellers.
So what the index measures is the investing decision of private savers, rather than the size or weight of their investment. That also rose in August, however, with client gold holdings on BullionVault rising 421 kilos (13,500 ounces) in August – the strongest addition since Dec. 2012.
End-August also saw the strongest week for new users funding their accounts at BullionVault since the end of April. Total inflows of money last week, ready to buy gold or silver, were the strongest since the end of June.
So yes, the risk of Western action in Syria did provoke fresh gold investing amongst private households. But that decision came at the end of a positive summer for gold sentiment. Because the returns to cash, and the outlook for other investments, continue to look so weak 5 years after the collapse of Lehman Brothers.