Gold Investing +58% in NY2021 After Doubling on Covid Crisis
Tuesday, 1/05/2021 11:05
Gold Investor Index matches record annual high...
GOLD INVESTING
has jumped at the start of 2021, with spending more than 50% above the first 4 days of 2020,
writes Adrian Ash at BullionVault
.
This comes after private investors poured record sums into the precious metal last year, doubling their gold demand from 2019.
Demand to buy gold using using BullionVault – the largest platform for private investors to own and trade physical gold, silver or platinum – has already totalled $6.8 million this January (£5.0m, €5.5m, ¥700m), beating the first 4 days of 2020 by 58.4% in US Dollar terms (53.5% in Sterling, 44.3% in Euros, 50.4% in Japanese Yen).
Last year's Covid crisis saw gold purchases via BullionVault's online and smartphone apps more than double from 2019's gross demand to 22.0 tonnes, up by 106.8% and worth $1.2 billion (£980m, €1.1bn, ¥134bn).
Net of client selling – spurred by
gold's strongest annual price rise since 2010
in Dollar terms, up 24.1% (best since 2016 in GBP, up 19.4%; third annual gain in EUR, up 13.4%; best since 2012 in JPY, up 18.0%) – that equalled the heaviest inflow of gold to BullionVault user accounts in 12 years at 6.6 tonnes.
2020's net inflow took the total quantity of client gold property, held in professional storage in each client's choice of London, New York, Singapore, Toronto or, most popular,
the Zurich gold vault
, to a new record of 45.8 tonnes worth $2.8bn (£2.0bn, €2.2bn, ¥287bn).
Although 15.3% smaller by weight than 2008, last year's net inflow was 72.0% greater by Dollar value at a record $375m (+147.3% in Sterling at £292m, +121.2% in Euros at €328m, +77.7% in Yen at ¥40.1bn).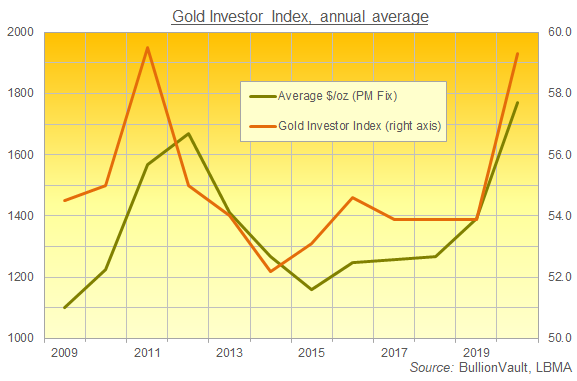 The number of people choosing to buy gold on BullionVault also more than doubled in 2020, rising by 101.7% as the number of sellers across the year rose by one third (+34.5%).
The Gold Investor Index would read 50.0 if the number of people buying gold matched exactly the number choosing to sell, measured against the total number of gold owners at the start of the month.
What to make of it? What comes next?
Gold as an asset class has now become an integral part of many private investors' portfolios. While this trend began long before Covid, the economic crash triggered by the pandemic has further reinforced this move towards gold as a key holding.
The fact that global stock markets have soared during the worst economic downturn since World War II has not diminished the case for gold as a safe haven. On the contrary, the huge tax-payer and monetary stimulus fueling this exuberance mean that 2021 poses very real risks to long-term savings.
Gold offers a timeless alternative to equity investments and cash savings. While it may struggle to repeat this year's record investment inflows as the pandemic recedes, gold's value as a tool for diversification will remain undiminished.