Private Investing Bullish on Gold & Silver for 2016
Tuesday, 1/05/2016 09:00
Latest opinion poll matches trading on world's No.1 gold & silver investing exchange...
GOLD INVESTING
has begun 2016 with what's becoming a regular New Year's bang,
writes Adrian Ash at BullionVault
, jumping this time from near 6-year lows on the worsening row between Saudi Arabia and Iran, plus the sharp stock-market falls
sparked by China's worsening slowdown
.
Existing precious metals investors, however, think monetary policy will have the greatest impact on gold and silver prices in 2016, with geopolitics only coming second.
That's according to our latest opinion survey amongst BullionVault users – private investors in the main, owning physical gold and silver vaulted at the very lowest costs in their choice of London, New York, Singapore, Toronto or Zurich.
But no. Looking ahead, nearly one third say they expect the gold price to end 2016 some 10% higher, higher, while one in five think it will rise 20%.
As a result, over half of the current bullion owners polled at the end of 2015 plan to retain their current holdings this year, while 41% plan to increase their investment in 2016 – something they continued to do as the New Year approached.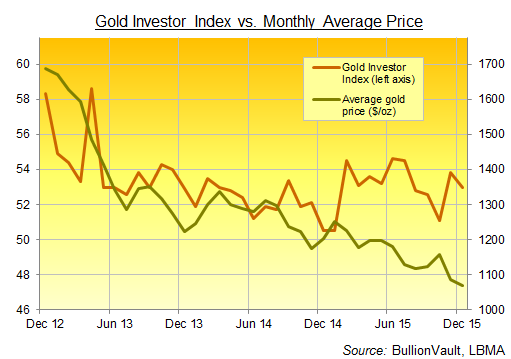 Private investors remained positive on gold bullion last month, confirming 2015's upturn in sentiment as they took advantage of new 6-year lows in the price to grow their personal holdings once more.
That's according not to an opinion poll, but to the latest actual trading data captured by our Gold Investor Index. It eased in December to 53.0, down from November's four-month high of 53.8 but in line with the sentiment measure's 2015 average.
Built solely from client trading on BullionVault – the world's No.1 online bullion market, which in 2015 grew its pre-tax profit 54% to £3.9 million on turnover growth of 10% to £375m (unaudited, 12 months to 31 October) – the Gold Investor Index measures the number of users starting or growing their gold holdings against those reducing or selling entirely across each month.
A reading of 50.0 would signal that the number of net buyers equalled the number of net sellers exactly. Running from September 2009, the Gold Investor Index hit a series high of 71.7 in September 2011, and hit a half-decade low at 50.5 at the start of 2015.
The Silver Investor Index meantime retreated to 53.5 last month from November's jump to 54.6, but held firmly above October's new series low of 47.8 and also beat the sentiment measure's 2015 average.
Coming in at 52.8 however, that annual average slipped from 2014's average of 53.4, marking a contrast with the Gold Investor Index's annual average, which rose from 52.2 to 53.1.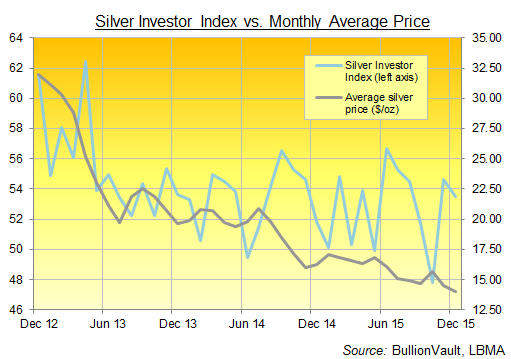 Gold ended 2015 with its lowest monthly average Dollar price since October 2009 at $1068, and silver recorded its lowest monthly average since July 2009 at $14.05 per ounce.
BullionVault users as a group added to their gold holdings for the fourth month running, extending 2015's total addition to 1.7 tonnes – the largest net calendar-year inflow since 2012, and some 295% ahead of 2014 by weight.
Silver holdings also rose, growing for the 9th month running and adding 7.5 tonnes – the largest 1-month addition since July's sharp price drop.
That took 2015's net silver inflow to 58.7 tonnes, some 6% ahead of 2014. Again lagging gold, as did silver's annual average of our Investor Index, that shows a growing preference amongst private savers to buy the less volatile yellow metal. It likely reflects a desire for some measure of financial insurance – more commonly associated with gold than silver – amid the broader investment losses and disappointments of last year. It may also mark a broader acceptance amongst private individuals that the risk of strong inflation, typically more bullish for silver than gold, will remain absent for as long as industrial and energy commodities sink in price.
But what of monetary policy? Now turning tighter in the United States, if nowhere else, it will prove the No.1 driver of precious metals prices in 2016 according to 35% of the 253 respondents to our end-2015 opinion poll. (Geopolitics, such as the Iran-Saudi stand-off, came next with 15%.)
Yet 30% of respondents also expect gold prices to rise 10% or more, with a further 21% expecting a rise of one-fifth in US Dollar terms by year's end. Silver forecasts were more bullish still, with 27% of BullionVault users polled saying they expect it gain 30% of more. Indeed, as a result of those views, fewer than 7% of respondents plan to cut their current holdings, rather than retain or expand their bullion investing in 2016.
So in sum? Private investors expect the US Fed's rate-hiking program will either lag inflation, disappointing the broader financial markets and leading a wider switch into gold and silver. Or they just don't believe Janet Yellen's team will stay the course, losing its nerve before raising rates again, let alone reaching
the 1.5% to 2.0% projected by some FOMC members
at last month's meeting.
If monetary policy does prove 2016's main driver of precious metals, and precious metals rise in price, that can only mean central banks push further towards zero – and below – as QE money creation speeds up worldwide.