2015 Gold Sentiment Upturn Continues
Tuesday, 5/05/2015 10:03
Gold Investor Index rises as UK investors buy before General Election...
PRIVATE INVESTOR sentiment rose towards gold in April, rallying from the previous month's slip with a jump in demand led by the UK ahead of this week's General Election, writes Adrian Ash at BullionVault.
Our Gold Investor Index, built using trading data from the world's largest gold and silver investment provider online, measures the number of people growing or starting their gold holdings against those who sold over the month.
Rebased so that 50.0 would signal a perfect balance, BullionVault's index peaked at 71.7 in September 2011, and hit near-five year lows of 50.5 this New Year.
April saw the Gold Investor Index rise to 53.6 from March's reading of 53.1, extending 2015's upwards trend.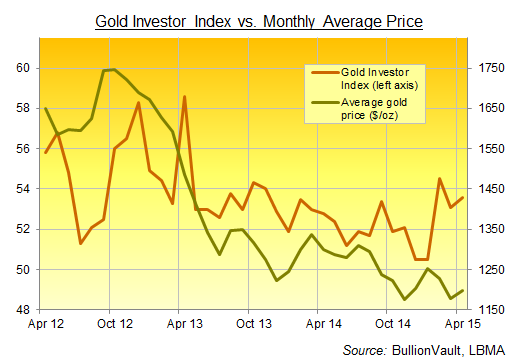 By weight, April 2015 saw the strongest net demand for gold on BullionVault since August 2013, with BullionVault's 55,000 users adding 410kg (13,185 Troy ounces) to the gold they own in secure, specialist vaults in London, New York, Singapore, Toronto and Zurich.
Ten years since the business first launched, that took BullionVault clients' gold holdings to a new record just shy of 33.6 tonnes – more than most of the world's central banks own.
April extended 2015's upturn in demand, with
UK investors buying gold ahead of the General Election
and it's potentially very messy outcome for shares, Gilts and Sterling. More broadly, on a 3-month basis, net gold investment hasn't been this strong since the start of 2013, with BullionVault users adding 0.8 tonnes since February to grow their total holdings as a group by 2.5%.
The turnaround in sentiment, however, comes off a low base. New Year marked a
near 5-year low in the Gold Investor Index
. April was only the second time in the last year that our sentiment index rose together with average monthly prices. One month doesn't yet mark a change in behavior. Bargain hunting, by definition, cannot sustain a bull market.
Bargain hunting drove sentiment on silver higher than gold in April, as average prices for the gray metal fell against all major currencies, including the Sterling, Dollars and Euros dealt for metal on BullionVault. Client silver holdings grew 1.2 tonnes to a new record of 503 tonnes, and a sharper rebound in the number of buyers across the month took the Silver Investor Index higher – up from 50.3 in March to 53.9 in April.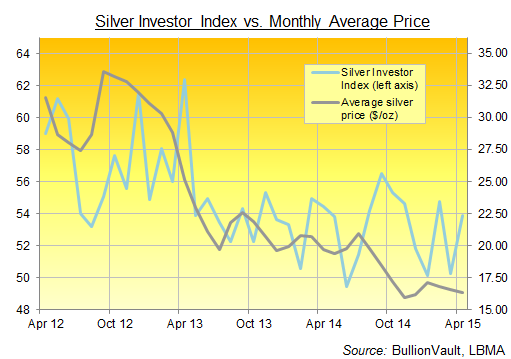 So far in 2015 then, BullionVault users have bought the most gold in two years. Local currency and political risks are the key driver, first with Eurozone investors reacting to Q€, and now UK investors growing rightly nervous before this May's General Election.
US investors remain less anxious than their European peers overall, but their demand remains solid on BullionVault, with a ratio amongst US users of 2.1 buyers to every net seller of gold on the exchange last month. It's also notable that larger customers, investing $150,000 or more, continue to be led by US residents.
Maybe they know or fear something which other US investors still piling into equities don't? Or maybe they've just found the best way to buy and own physical gold at low cost. The US Mint, for contrast, just reported
its weakest April sales of gold bullion coins
since 2012. Exchange-traded trust funds backed by gold have seen a retreat from January's sharp inflows, and now stand only 1.3% larger from the start of the year according to data from Bloomberg.
Client gold property at BullionVault, on the other hand, has grown 2.6% by weight. We're taking new deliveries of gold to the Singapore vault in the first week of May as well. You can see the full total, and ensure your own property is where it should be, in full, inside the vault, using
BullionVault's Daily Audit
here.