'Cup and Handle' Pattern Drives Bullish Gold and Silver Forecasts Higher Still Ahead of US Jobs Data
Thursday, 4/06/2023 14:24
GOLD PRICES held $20 per ounce below yesterday's new 13-month high of $2032 in London trade Thursday, while silver again tried but failed to hold a break above $25 as European and US markets prepared for the long Easter Weekend.
With gold trading 9.5% higher from 5 weeks ago while silver has jumped by 18.5%, tomorrow's key US jobs data for March – now expected to match the weakest employment growth since the second-wave Covid crisis of end-2020 following a shock plunge in new vacancies – will come as London's bullion market and the CME futures and options exchange both shut for Good Friday, along with most Western equity and bond markets.
"Gold remains in sight of a record high as investors seek safety on the back of elevated inflation," says a note from Australasian bank ANZ.
A break through
gold's 2020 peak of $2075
would "go a long way in signalling a significantly larger upside in 2023-2025," say analysts at US finance giant Bank of America-Merrill Lynch, targeting $2500 per ounce.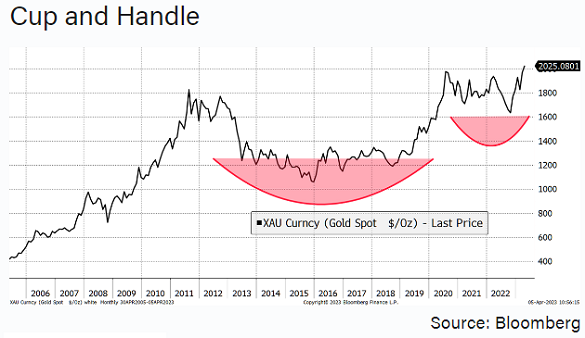 Meanwhile in China, where traders returned Thursday from the Qingming 'tomb-sweeping' holiday, prices on the Shanghai Gold Exchange ticked up to a new record high at ¥446.50 per gram.
But the premium for bullion landed in China – the precious metal's No.1 consumer market – over the global benchmark of London settlement fell below $3.50 per ounce.
Down from Q1 2023's ten-year record above $22 per ounce, today's Shanghai premium offered the weakest incentive to new bullion imports into China since last July at less than half the historic average, reflecting weak domestic demand at gold's new record highs.
Domestic prices in No.2 gold consumer India have risen this week to
new record Rupee highs
above ₹61,000 per 10 grams, but that still deepens a discount to landed import costs – which include 15% import duty, aimed at deterring demand to reduce the country's huge current account deficit with the rest of the world – running since mid-March.
Gold prices in Japan and South Korea also hit new all-time highs Wednesday, peaking above March's tops to touch ¥8581 and 85,020 Won per gram respectively.
"Last year rising interest rates had been boosting the opportunity cost of possessing gold," the Korea Times quotes one brokerage's economist.
"The completion of a key rate hike cycle that is soon to come is
thus positive news
for prices of gold."
Also noting the "crosswinds" for gold from 2022's "unprecedented monetary tightening", the "mere resilience" of gold last year "may have been a disappointment to some,"
says a new note
from the mining industry's World Gold Council.
But now those steep rate hikes "have started to break things," the WGC goes on, "most notably in small US banks and the commercial real estate sector.
"While contained for now, [this] represents an increasing risk of systemic escalation. With a US recession still on the cards, growing systemic risk adds to gold's case."