Gold for All Seasons
Thursday, 9/14/2017 09:01
But your strategy should change as life does...
The BEST call financial writer Geoffrey Caveney ever made was in December 2015, writes Frank Holmes at US Global Investors.
Gold hit a multiyear low of $1050 an ounce, and he was convinced that the metal had found a bottom. It was time to make a trade, he thought, not just in bullion but precious metal miners, specifically the juniors and some micro-cap names.
Readers who took Geoffrey's recommendation were no doubt grateful they did. Responding to low to negative interest rates around the world, gold rose as much as 16.5% in the first quarter of 2016, its best three-month performance since 1986. By the end of June, it had surged 28%, its best first half of the year since 1974. Producers, as measured by the Philadelphia Gold and Silver Index, likewise took off.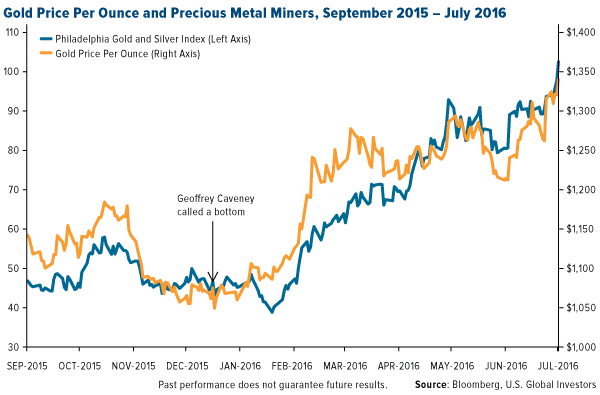 gold price per ounce and precious metal miners, September 2015 - July 2016
Geoffrey's track record is nothing to sneeze at. In July 2016 he advised readers to take profits on Alexco Resource, which was up an amazing 430% for the six-month period. A trade on Fortuna Silver Mines a month earlier netted him a 445% profit. He has a number of similar successes under his belt.
"I'm in the habit of thinking for myself," he told me recently during a chat over the phone.
To make such a contrarian call on gold – or any other asset – you have to think for yourself. If you remember, gold in 2015 hadn't logged a positive year in three years, and investor sentiment toward the precious metal was down. Every gold conference I spoke at, attendance was unusually light. When an asset gets this beat up, it's often easy just to fall in with the herd.
But as Warren Buffett himself once said, "The time to get interested is when no one else is."
Thinking for himself has served Geoffrey well in a number of other ways – most notably when he got laid off during the financial crisis. Instead of wasting time looking for work that wasn't available, he decided to try his luck at freelance tutoring. Combining his interests from when he attended Yale University in the 1990s, he began to teach young people chess, English, math and SAT prep.
His best advice to those about to take the SAT? Focus on the process rather than the goal, and keep your emotions in check. Take deep breaths, in through the nose and out through the mouth.
As Geoffrey himself pointed out, this is sound investing advice as well. Greed and fear can be powerful allies, but it's important to learn to harness them and stay in control of the decision-making process. This isn't New Age, hippie-dippie stuff. Ray Dalio, founder of Bridgewater, the world's largest hedge fund, has often attributed his extraordinary success to meditating, which he says keeps him calm and centered.
"If you don't reset yourself mentally on occasion, you run the risk of making the same mistakes over and over again," Geoffrey said.
Aside from tutoring, Geoffrey grew his interest in investing, where he put his background in math and chess to good use. In his youth he took chess lessons from the distinguished Uzbek grand master Gregory Serper, and he learned to apply this highly strategic mode of thinking to his trades. As his instincts improved, he started writing about investing and finance on sites such as Seeking Alpha, focusing on gold, precious metal miners, emerging markets, tech, cryptocurrencies and other themes. He watched his readership grow.
"Gold always gets lots of attention as well as Bitcoin or any cryptocurrency," he said. "I see tremendous value in China, but I find that those articles get much less attention."
As someone who also writes about gold and China, I can attest to the accuracy of his observation.
As for gold, Geoffrey believes you "don't have to be a gold bug to invest 5 or 10%," which is in alignment with what I've been saying for years. Gold, I believe, is for all seasons and economic climates – 5% in bullion, 5% in quality gold stocks, mutual funds and ETFs. Rebalance every year.
Right now Geoffrey is focused on the next trade and increasing his readership. In June he launched a newsletter, the Stock & Gold Market Report, which can be found on Seeking Alpha. In it he shares his latest buy and sell recommendations, and he also offers a handy service on how to build a well-balanced portfolio from the ground up.
After reading his valuable insights and speaking one-on-one with him, I feel confident recommending a subscription to the Stock & Gold Market Report. I wish Geoffrey all the best in this new endeavor and look forward to hearing from him again!