Gold Buying Extends to 5-Year Best Stretch
Tuesday, 3/07/2017 09:36
But selling rises in Feb' as traders take 8% profit for 2017 so far...
PRIVATE INVESTOR gold buying eased back last month from its strongest January in 5 years, but it held positive again to mark the longest run of net demand since 2012, writes Adrian Ash at BullionVault.
Gold prices ended February 8.3% higher for 2017 so far against the US Dollar, led by fresh concerns over rising inflation.
That saw the number of people buying gold on BullionVault – the world's leading online platform – fall by one-fifth across the month to the lowest in just over a year, while the number of sellers rose by almost one-third as some existing owners took profits.
Altogether that pushed the Gold Investor Index – a unique measure of private investor sentiment towards gold – down from 54.3 to 51.8, its lowest reading since July 2016 saw users take advantage of the Brexit spike to sell at the highest prices in two years.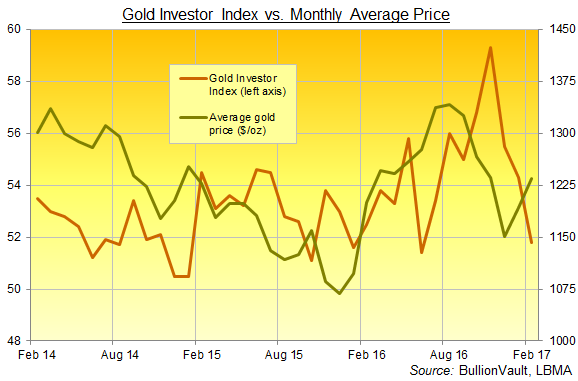 A reading of 50.0 would signal an equal number of net buyers with net sellers across the month. The Gold Investor Index hit a 5-year high of 59.3 as Donald Trump won the US presidential election in November.
Silver prices
meantime outpaced gold again in February, inviting short-term traders to take 12.6% profits for 2017 to date.
That pulled the Silver Investor Index down from 50.3 to 49.0, the lowest reading since June's 48.6 when longer-term customers used the Brexit shock to sell at the highest prices in two years.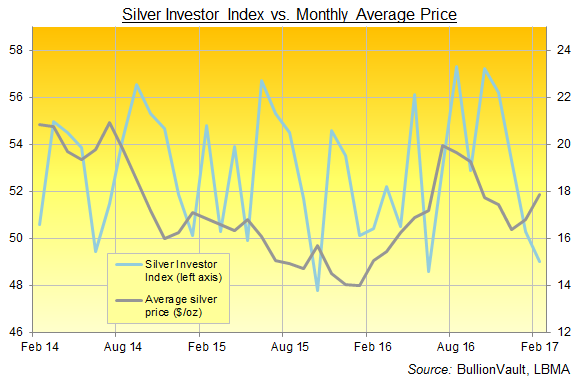 Reaching a fresh month-end record of 37.7 tonnes in February – more than most of the world's central banks hold in reserve – BullionVault client gold holdings grew by 100 kilos last month, stored in the customer's choice of London, New York, Singapore, Toronto or Zurich.
That marked for the 7th monthly net inflow in succession, the longest such stretch since mid-2012.
Silver holdings meantime grew another 8.5 tonnes – the 13th consecutive monthly inflow – to reach a fresh record of 659 tonnes.
Over the year since March 2016, BullionVault users have now added over 111 tonnes of silver to their holdings, the heaviest net demand since the 12 months ending August 2012.
So while sudden price spikes might see active traders take profits, we expect the underlying return of steady precious metals investment to hold firm in 2017.
Both gold and silver prices have meantime retreated so far in March. That offers longer-term investors – wanting to
diversify the risks
in their broader portfolio – the chance to buy bullion at a discount to the recent highs.