Gold Bull 2017
Thursday, 1/12/2017 09:00
Ringing in the New Year with a bullish case for gold...
YOU COULD say gold miners struck gold in 2016, writes Frank Holmes at US Global Investors.
The group, as measured by the NYSE Arca Gold Miners Index, finished the year up an amazing 55%, handily beating all other asset classes shown below.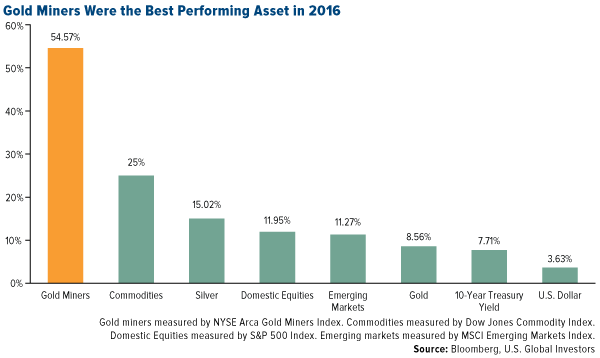 Miners were followed by commodities at 25% and silver at 15%. Gold finished up 8.6%, its first positive year since 2012, when it gained 7.1%.
I find it curious that many in the financial media continue to have a bias against gold, even though it generated better returns in 2016 than 10-year Treasuries and the US Dollar, which performed half as well. And when it was up as much as 28% in the summer, they still didn't have anything positive to say, arguing it had gone up too much.
(Gold traders, on the other hand, have a much different opinion about the metal right now. A group of traders recently surveyed by Bloomberg revealed they are the most bullish on gold since the end of 2015, soon before it rallied in its best first half of the year since 1974. The traders cited geopolitical concerns, both in the US and Europe, as well as stronger demand in 2017.)
And isn't it interesting that the same media figures who are biased against gold are usually the same ones who seem to have only disparaging things to say about Brexit and President-elect Donald Trump? What they don't realize is that if Brexit and Trump succeed, so too do the UK and the US. Are they hoping Brexit and Trump will fail so they can be proved right?
The smart people realize personal politics must be put aside. Despite supporting Hillary Clinton during the primaries, Warren Buffett now says he is behind the president-elect – because he knows that if the US does well, he does well too. Despite campaigning hard against Trump, President Barack Obama says now we should all be rooting for Trump, regardless of our politics.
But back to gold. Coming up on January 28, we have the Chinese New Year, when demand for the yellow metal historically has risen, along with prices. This will be the year of the fire rooster, one of whose lucky colors is gold.
Throughout 2017, the precious metal should be supported by even deeper negative real rates, which could fall to their lowest level in two years as inflation outpaces nominal interest rate increases, according to UBS. In October, Federal Reserve Chair Janet Yellen suggested there might be some benefit in allowing inflation to exceed the central bank's target rate of 2% before another hike is considered, which is good news for gold. Numerous times in the past I've shown that the yellow metal has tended to rise when real rates – what you get when you subtract inflation from the federal funds rate – fell into negative territory.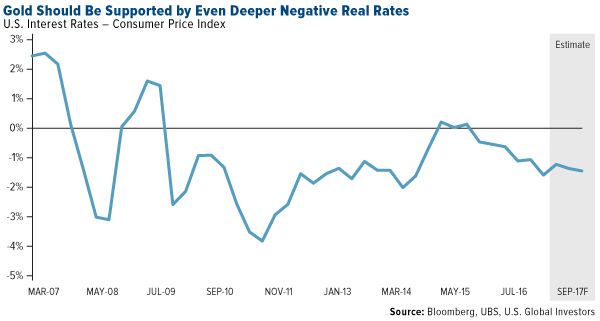 "Federal Reserve interest rate hikes could weigh on gold prices in the near term," according to UBS's house view. "But as real rates fall more deeply into negative territory through the next year, we expect prices to rise toward $1350 an ounce."
Since Election Day, domestic stocks have rallied 6.5% while gold has dropped as much as 7.6%. What this means is gold is looking extremely undervalued compared to the S&P 500, which should appeal to value investors.
Look at the gold-to-S&P 500 ratio below. The lower the ratio, the more undervalued the metal is compared to blue-chip stocks. In fact, gold is at its most undervalued in at least 10 years right now.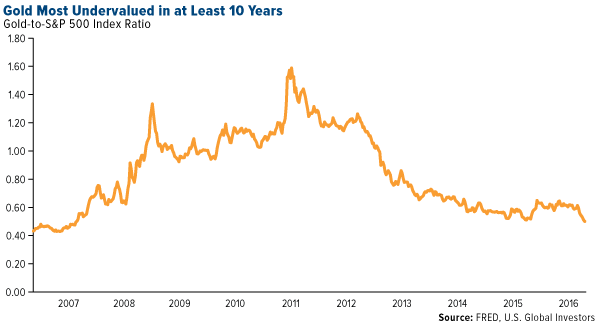 Technically, gold still appears oversold, down almost one standard deviation now. As you can see, it's moving back to its mean for the 60-day period, but there's still time to capture potential growth.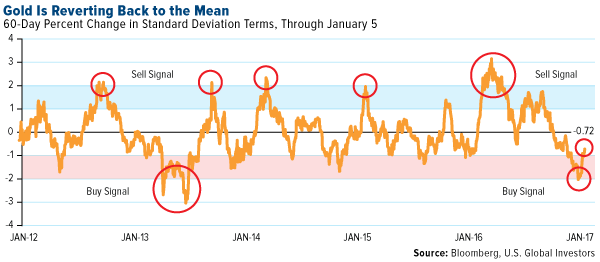 Commodities were meantime the second-best asset class last year, because manufacturers and trade are showing improvement.
Global manufacturing expanded for the fourth straight month in December, reaching 52.7, its highest reading since February 2014. The individual US, Germany, Japan, and Eurozone PMIs all hit their highest posts in at least a year, building on a strengthening uptrend that's been in place since September. International trade volume expansion hit a 27-month high, according to Markit. And despite the "negative" consequence of Brexit, the UK Manufacturing PMI posted an amazing 56.1, up from 53.4 in November.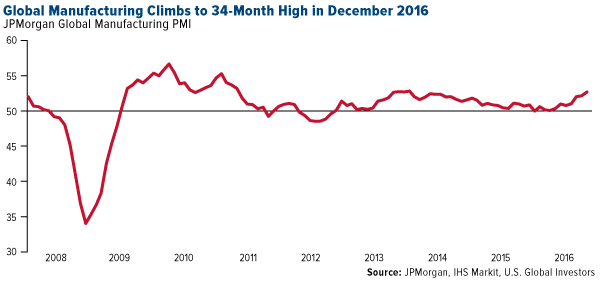 As for commodities, I'm pleased they've shown resilience in the face of a strengthening US Dollar. CLSA analyst Christopher Wood touched on this very topic in his recent edition of 'GREED and fear', writing that;
"...the renewed Dollar strength post Trump's victory has not been accompanied by renewed commodity weakness. Rather the reverse has happened, with copper rallying, for example, on presumed hopes of increased demand triggered by Trump's infrastructure policies."
China's commodities trading volume has also been impressive, maintaining its rank as the world's heaviest for the seventh consecutive year.
Of course, price appreciation for commodities and natural resources is inflationary for consumer goods. Because of possibly rising gasoline prices, US drivers are expected to spend about $52 billion more at the gas pump this year compared to 2016, according to GasBuddy's 2017 Fuel Price Outlook. Three-Dollar gas will likely become a reality again in several large cities, including New York, Los Angeles, Chicago and Seattle.
Whatever you end up paying, make it a point this year to stay optimistic. Not only does being optimistic help you stay healthy, both mentally and physically, but it also allows you to see the opportunities that others might not.