Gold Price Breakout!
Wednesday, 2/06/2019 09:02
Well, maybe. Soon...
FIRST we need to define what a breakout actually is, writes Jordan Roy-Byrne at TheDailyGold.
Its when the price breaks a pattern or a range and a new trend is therefore established.
Today, people are all too quick to refer to almost every move higher as a breakout. Just google 'gold breakout' and you'll see what I mean.
Sure, closing above $1300 was a breakout for gold. But that's hardly significant. If and when gold surpasses the wall (resistance at $1350-$1375), it will mark a real breakout.
The good news is gold is currently in a much better position both fundamentally and technically than it was in 2016, 2017 and 2018.
Let me start with the technicals. Becaus gold in real terms is stronger than at any other time in the past few years.
In the chart below we plot gold against foreign currencies (FC), stocks, bonds and commodities. The four vertical lines highlight the points when gold was testing its wall of resistance.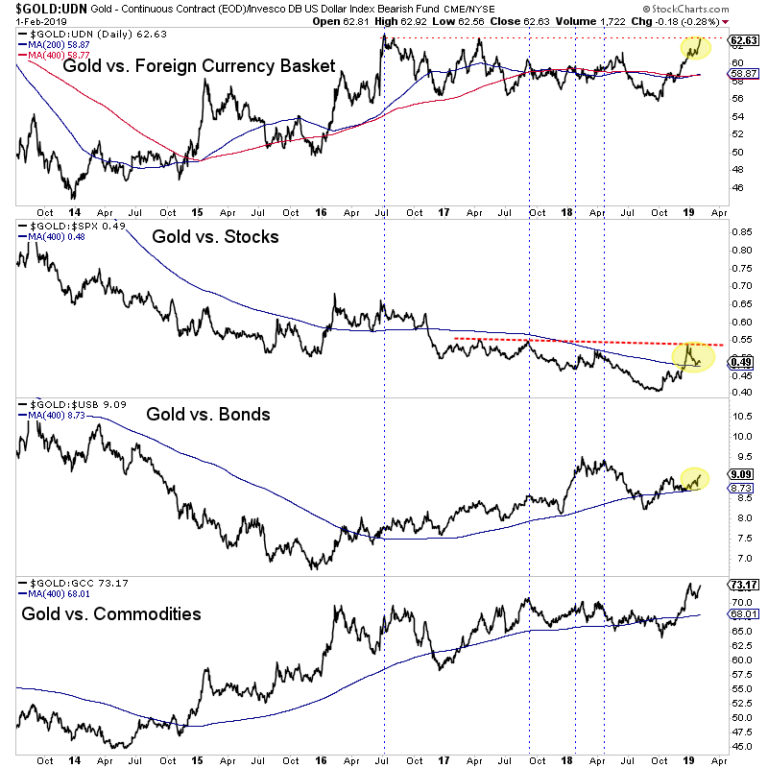 During 2017 through 2018, gold was driven mostly by a weak Dollar. In relative terms, gold was weak against FC and stocks.
Relative to summer 2016, gold is currently stronger against bonds and commodities and is inches away from testing its 2016 high against FC.
The last thing holding gold back is the stock market. Note that the gold to S&P 500 ratio has not made a higher high in recent days. While its holding above moving average support it desperately needs to make a higher high to confirm a new gold bull market is underway.
The performance of gold relative to the stock market is connected to the fundamentals for gold.
If the stock rally and economic data hold firm, the Fed could reintroduce rate hikes into the equation. That's not a bullish scenario for gold. (It's important to keep this in mind).
On the other hand, if the market is right, the Fed is done hiking rates and will make its first rate cut in 2020.
That scenario eventually implies equity market weakness, a push higher in the gold to stock market ratio and a breakout in gold.
So who should we trust: the market or the Fed, who thinks they could hike this year?
The gold stocks are providing additional evidence. They exploded above their 400-day moving averages and have shown strong breadth over the past two weeks.
At present, the weight of the evidence is favoring bullish outcomes for precious metals. Ultimately, if gold and gold stocks extend their outperformance against the stock market then look out for a breakout and a full blown bull market.