Gold's 'S&P Top' Blueprint
Wednesday, 5/24/2017 09:01
Maybe the US stockmarket is topping...
IT HAS NOW been exactly 10 months since we established 2410 as the measured objective for the S&P 500, writes Gary Tanashian in his Notes from the Rabbit Hole.
In forming a potential double top last week at 2405.77 I'd say we are close enough to call the target in (as we did in February when the first top was made on what we called "peak Trump" day, post-congressional address).
Now, a target is not a stop sign; in this case it was a long-term objective based on a chart pattern, period. It could make me look like the genius I certainly am not, or it could just pause at the target on its way to further upside mania and a potential market blow off.
Don't let 'em baffle you with bullshit, nobody knows which of those, or whatever else may be in store.
For instance, this could just as easily be a bullish Ascending Triangle (sloppy though it is) as a bearish Double Top, which would not be activated unless SPX makes a lower low to the April low...period.
Macro fundamentals and valuation are not technicals. On the subject of technicals, there is an ongoing bearish divergence by MACD and RSI, so that's something at least for the bear case. But the trend is bullish until it no longer is and that applies to this daily view as well as longer-term views beyond the scope of this article.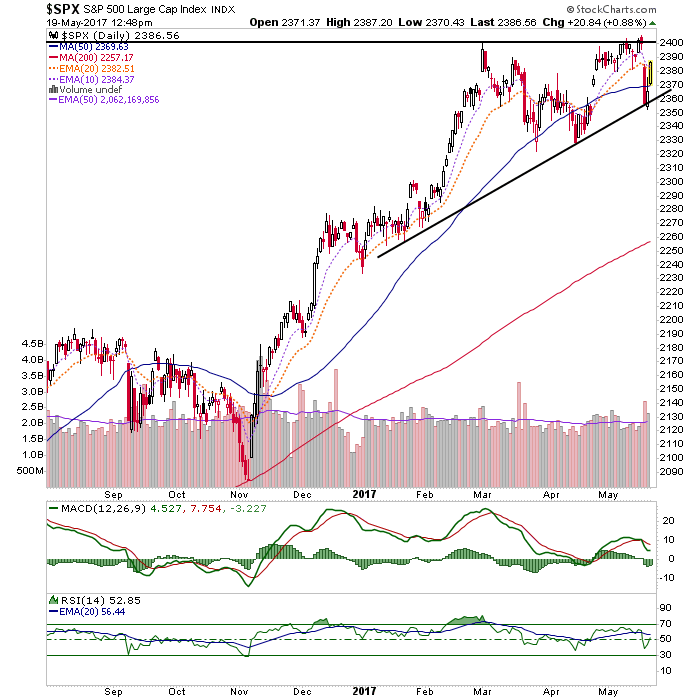 There is no buying opportunity on US stock indexes in my opinion. Sure, there are nice whipsaws for day traders and the like, but I prefer individual stocks to buy on opportunity like previous bottoming setups in stocks on which I've taken profits.
As for Europe, let's use the HEDJ (currency hedged) ETF since the the Euro STOXX 50 index data are not available in-day as this article is being written. I am interested in Europe as we revive a theme we had a few years ago as the ECB goes "me too!" with respect to the US Fed's former QE operations.
The chart of HEDJ got peppy on Macron and needed to be corrected. Turnabout being fair play, maybe a small break of the channel to test the SMA 50 might be in order. That would be a buying opportunity, assuming broad market stability, for Europe bulls.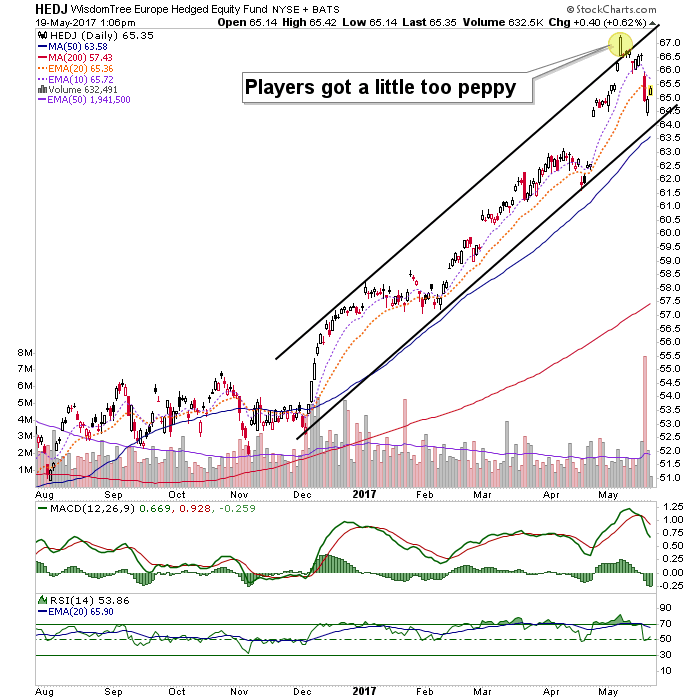 We updated the mostly bearish view on commodities earlier last week for subscribers. This included last week's bounce, which was happening exactly as was planned ahead of time.
So finally, we move on to the much obsessed over, much cheer-led gold sector. By that I mean gold, gold stocks and the item that should lead the complex, silver. Again, if not for the fact that this article needs to stay within reasonable length and that the fine technical and fundamental details we manage should be reserved for NFTRH subscribers, I'd go on and on here because I think this could be the next big macro play; the next destination for funds that want to anticipate a new bull market and ride it.
This new phase is not yet ready however, and while gold itself has established an intermediate trend (in this case, up), the balance of the sector has not. Some quality royalty, mining and exploration outfits have joined gold in up trends, but it remains a stock picker's market. Later, a rising tide would lift even the least sea worthy boats.
The biggest thing I want to highlight about gold and the gold sector is the macro backdrop, ably represented by our handy planetary guide, the Macrocosm.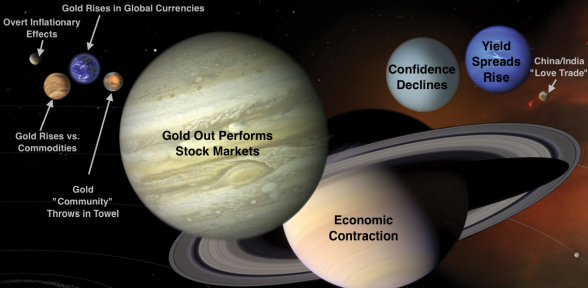 With respect to the proper fundamentals for the gold sector, which in its best investment case is counter-cyclical, the only fundamental underpinning that is currently in place is gold vs. commodities ratios, which have generally been rising in 2017, although even there the trends are not conclusive yet. The biggest planet is gold vs. the stock market and that also relates to the 'Economic Contraction' and 'Confidence' planets. Confidence in assets positively correlated to the economy simply has not cracked yet and so, the gold sector is simply not ready yet.
Gold vs. Commodities (and silver) is a mixed bag but mostly constructive for a new upturn. We have used Gold/Palladium in particular as a good economic indicator. It has not yet turned counter-cyclical. The reason gold vs. commodities is important to the gold stock sector is because the implication, should the ratios rise, would be rising product (gold) price vs. input costs (energy, materials, labor, etc.).
If the inflation has roosted anywhere, it has been in stock markets. Confidence must decline for the gold sector to stand out and that would be reflected in gold rising vs. stock markets. Thus far, it ain't happening.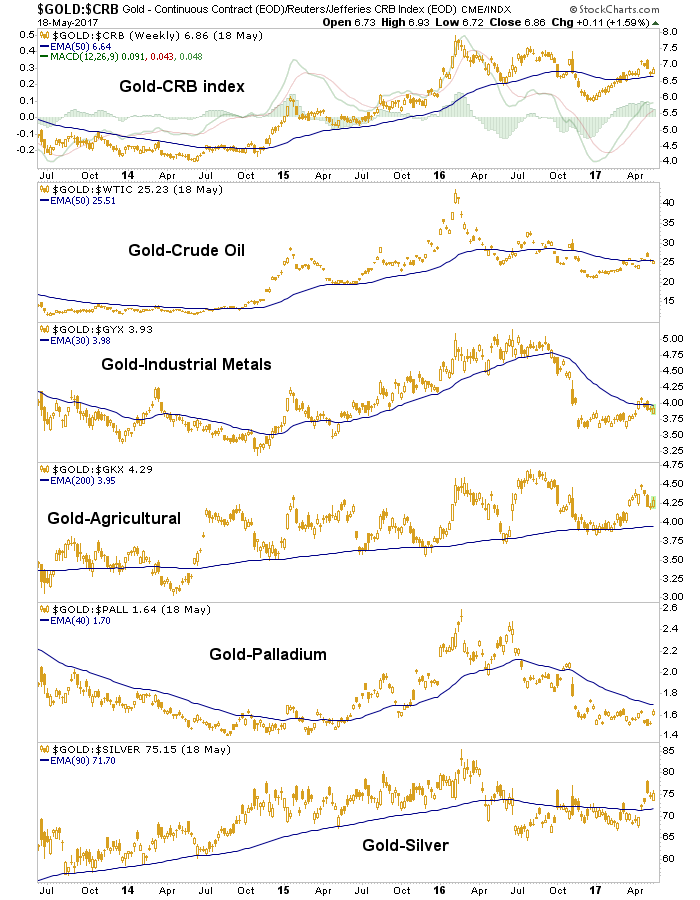 I was going to go into the nominal technicals of gold, silver and the miners, but you get that all over the internet anyway, with chartists drawing their lines, plotting their targets and micro managing every squiggle for enthralled gold bugs while trying to call a sector that routinely confounds such linear analysis.
So we'll leave it at this; the gold sector will be ready when it is ready. There is good reason to believe that we are on a 1999-2001 blueprint, but patience is key.