After the Gold Bear? $2600 by 2017 Says History
Tuesday, 12/02/2014 16:30
The trend is still down, says this technical analyst. But then...
PAST PERFORMANCE
does not guarantee future performance, as they say, but Jordan Roy-Byrne, CMT, editor and publisher of
The Daily Gold Premium
, is persuaded that the bottom in gold is no more than a couple of months away.
And after that, look out.
In this interview with
The Gold Report
, Roy-Byrne says that his study of gold's history explains why gold could retest $1900 per ounce by the end of 2016 before going parabolic.
The Gold Report: After falling to $1137 per ounce, gold has rallied to $1200 per ounce. Has the fabled bottom finally been reached, or will we see one final selloff?
Jordan Roy-Byrne: I do not think we have seen the bottom, but I think we are very close. It should happen within the next couple of months.
TGR: Why do you think we're so close?
Jordan Roy-Byrne: Typically, markets don't bottom at random numbers. Gold has really strong support at $1080 per ounce, which is the 50% retracement of the entire bull market, and at $1000 per ounce, which is the key psychological level and also was a key support level in 2008-2010, so gold is more likely to test those levels than bottom at $1137 per ounce.
Two more reasons to believe we haven't hit bottom are volatility and the Commitment of Traders' report. The two biggest volatility spikes in the last six years were at the 2008 bottom and then at the 2011 top. In the last month or so, volatility has picked up after being absent for most of 2014. Gold's trend is down, so increasing volatility suggests a sharp selloff that could take gold below $1100 per ounce. A spike in volatility combined with major support at $1000 per ounce is one recipe for a major reversal.
The COT report, which tracks futures traders, suggests that we have not hit an extreme, but again it's very close. A decline below $1100 per ounce or $1080 per ounce would likely result in many traders panicking out of the market and at the same time putting on more short positions. Given the current construction of the COT, a decline below $1100 per ounce in gold would result in the net speculative position and gross short positions reaching 13-year extremes.
TGR: An alternative explanation for the fall in the gold price is aggressive shorting by institutions such as Goldman Sachs, perhaps aided and abetted by central banks. What do you think of that?
Jordan Roy-Byrne: I don't think anything of it. Yes, short positions have increased, but this is how futures markets work. It's just sour grapes.
TGR: Talk about your bear analog for gold and what it tells us.
Jordan Roy-Byrne: I'll talk about that but also about my analogs for silver and mining stocks. These analogs examine the historic bear markets and plot them on graphs in order to compare them. We must remember that bear markets are a function of price and time. And those with the sharpest declines last the shortest amount of time. The gold and silver crashes in the 1980s lasted less than two years. They were spectacular declines with most of the damage done quickly. But bear markets that last for years are not particularly severe in terms of price.
TGR: What do your analogs tell us about silver and mining stock bear markets?
Jordan Roy-Byrne: Most bear markets in mining stocks average about a 65% decline. What we've seen in the current bear market is well in line with history. Silver bear market declines are typically 50-70%.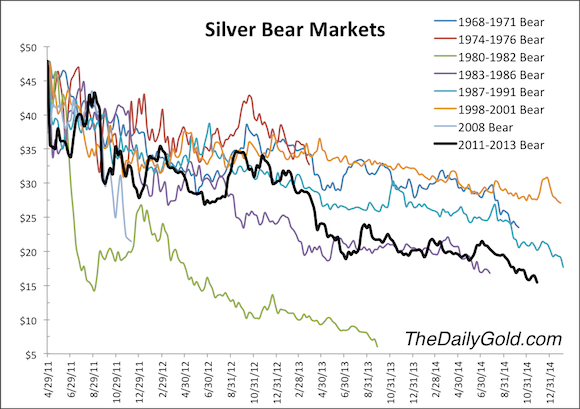 TGR: So the ongoing bear markets in gold, silver and mining stocks are historically typical?
Jordan Roy-Byrne: The current bear markets have lasted a little over 3 years for gold and over 3.5 years for silver and mining stocks. They've been fairly severe in terms of time and price but not extreme. Keep in mind that gold went from $250 per ounce to almost $2000 per ounce and silver from less than $4 per ounce to $50 per ounce. Those were spectacular moves.
That said, the entire bear market is more severe than what one would have expected. The reason is that we had a very strong advance in 2001-2011, with only a mini-bear market lasting six months in 2008.
TGR: What about the possibility that the current bear markets will break through historic precedents?
Jordan Roy-Byrne: It's always possible. It remains my belief, however, that gold could fall another $200 per ounce to tick below $1000 per ounce and fool people that we are still in the thick of the bear market, when we have actually come to the end. Now, if we don't have a bottom by the middle of next year, and gold is lagging under $1000 per ounce, your question will be more pressing.
TGR: You also have a gold recovery analog. What does this suggest with regard to how high gold will rise with the next bull market?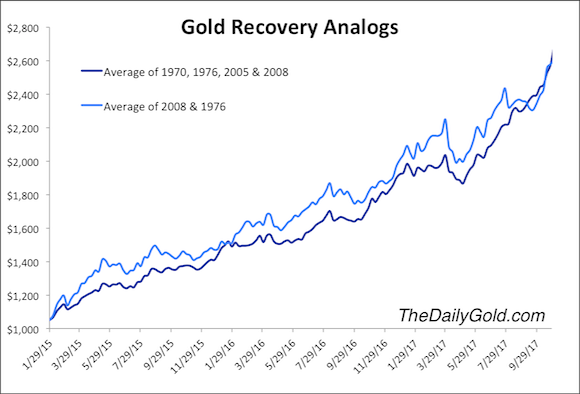 Jordan Roy-Byrne: This analog examines the strongest historic cyclical moves in gold and applies them forward. My chart begins with a $1050 per ounce bottom at the end of January 2015. I've merged the recoveries of 1970, 1976, 2005 and 2008 into one average and the two strongest recoveries, 1976 and 2008, into another.
These data suggest that gold should hit $1500 per ounce within 12 months from the bottom. If gold does bottom in the next four months, the analog presents a very strong case that gold will retest $1900 per ounce by the end of 2016.
TGR: The analog also suggests a high above $2600 per ounce by September 2017. That would be an all-time, inflation-adjusted high, correct?
Jordan Roy-Byrne: Correct. If gold tops $1900 per ounce again, one would expect greater moves and increased volatility after that. The recovery analogs suggest that gold could start to go parabolic around $3000 per ounce. How high would it go? I think $5,000-10,000 per ounce by maybe 2019 or 2020.
TGR: Hundreds of precious metals equities have reached 52-week lows since October. Given your forecast about the near-term bottom, is today a good day for investors to buy these stocks?
Jordan Roy-Byrne: I would say no because should gold fall below $1100 per ounce, there will be a final cleanout, and only then will that space be fully derisked. Over the last 18 months or so, I have been fooled several times in believing that gold stocks had been so oversold they couldn't go any lower. While they rebounded strongly for several months, they ultimately went lower.
Gold has always been the real driver of this bear market in precious metals equities, so I don't want to buy the equities until we see the final move down in gold. The bear market is mostly over. The risk/reward ratio is generally excellent now, but I think we could have a little bit more pain. And, of course, investors must choose companies carefully because these precious metals equities are all over the map.
TGR: After we've bottomed out, and market interest returns, what should investors look for in gold producers?
Jordan Roy-Byrne: Number one is production growth potential and the financial position to ensure that growth. Look at companies with mines producing close to or above 100,000 oz (100 Koz) per year and mines that are early in their lives. Also, consider companies that are barely profitable right now. At $1500 per ounce gold, barely profitable becomes strongly profitable. That change in margin is huge for the stock price. These are the factors that could drive the best share performance. Investors should also look for companies in the best jurisdictions because they're the best takeover targets.
TGR: What should investors be looking for in exploration and development companies?
Jordan Roy-Byrne: Experienced management teams that have built mines before or sold them before or have track records of success in discovery and exploration. Their companies should have several-million-ounce deposits in good jurisdictions, deposits than can support mines at 100 Koz per year or more. Companies with smaller deposits should be avoided because such deposits will require these companies to build the mines themselves, which is really tough.
TGR: Which jurisdictions are best?
Jordan Roy-Byrne: Canada, Nevada, Mexico and West Africa. This is where the majors are. And majors with operations in Nevada or Mexico, for example, will want to make acquisitions there. They don't want to build big new camps somewhere else.
TGR: How low should the all-in gold production costs of these development companies be?
Jordan Roy-Byrne: Companies with deposits that require a gold price of $1500 per ounce to be profitable are just too high risk. Should gold fall to $1000 per ounce, these companies can fall to $0.01 a share or trade at their cash value.
Their deposits should make good money at $1200-1,300 per ounce and have internal rates of return (IRRs) of at least 20% after tax. Deposits like these have the best risk/reward ratio and good leverage. And should gold rise to $1400-1,500 per ounce in the next year, these companies can make really, really good money. Best of all are companies with advanced projects that have multimillion-ounce deposits that are low cost and fully financed.
TGR: Which companies will lead the next wave of mergers and acquisitions?
Jordan Roy-Byrne: First off, I don't see a lot of M&A until we get a confirmed bottom in gold, when it rises above $1300 per ounce, perhaps. That's what will persuade the majors that the bottom is in. At that time, their financials will be picking up, and that's when they can pick off some of the best assets. Maybe late 2015. Right now, most companies are trying to make sure they survive if gold goes below $1100 per ounce.
TGR: Is there any particular event that investors should look for in the next couple of months to demonstrate that the worm has turned and that we're definitely into another bull market?
Jordan Roy-Byrne: One thing investors should follow is the gold/S&P 500 ratio. Over the last 3.5 years there's been a severe negative correlation between these two asset classes. Money has for years flooded into the broader equities markets but not into precious metals. Right now, money is still flooding into equities generally but is exiting gold.
I think it's possible over the next couple of months we could see a potential blow-off move in the S&P 500. And if the gold/S&P 500 ratio rebounds significantly thereafter, that would be quite a signal. Another event would be gold falling to $1000 per ounce and then making a monthly close above $1200 per ounce. That would demonstrate to me that we're in a new bull market.
TGR: Jordan, thank you for your time and your insights.