Gold's Forever Bear Market Over
Sunday, 2/14/2016 10:05
Maybe. Watch the key $1180 level at month's end...
LAST Thursday gold erased further doubts as it rocketed above $1200 per ounce to as high as $1264 per ounce before settling a bit lower, writes Jordan Roy-Byrne at TheDailyGold.
That move puts gold's recovery on par with those following past major lows and offers greater confirmation that a new bull market is underway.
The chart below plots the recoveries from 1976 and 2008 and puts them on the same scale as the current rebound.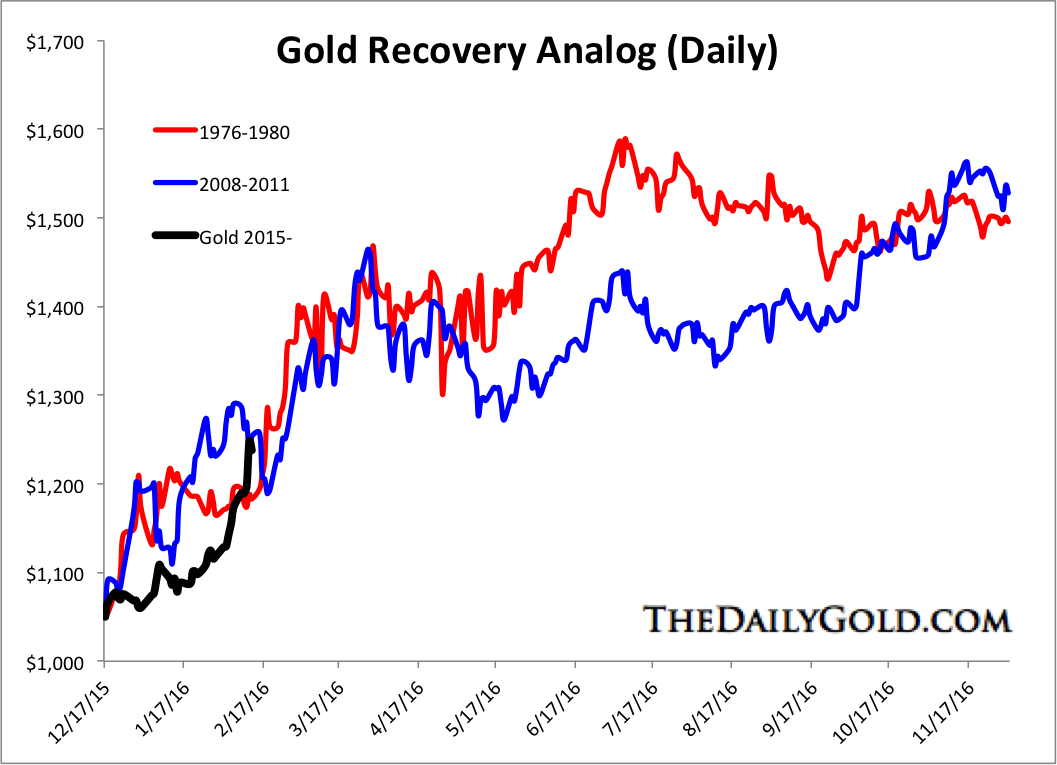 Note how those recoveries surged well above $1200 per ounce within three months. Moreover, note how $1200 per ounce served as a pivot point for those two recoveries within two months before pushing much higher. Gold does not have to zoom to $1400 per ounce in the next few months to validate the new bull market. It's more important that it holds above $1200 per ounce in the weeks ahead.

In addition to $1200 per ounce, $1180 per ounce is also a very important level. It has marked resistance and support numerous times in recent years as well as during 2009 to 2010. A monthly close above $1180 per ounce, which also surrounds the 20-month moving average is another sign that the bear market in gold is over. February is only half over but gold appears poised to close above $1180 per ounce.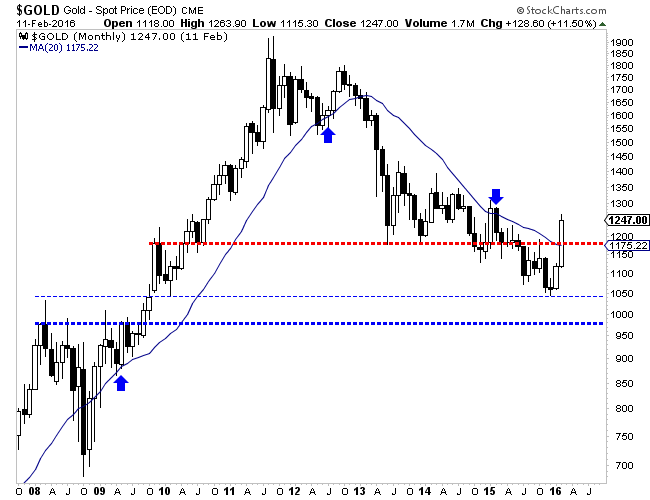 Meanwhile, gold continues to show impressive relative strength against foreign currencies and equities in particular. Gold against foreign currencies is at a 10-month high and could soon test a 3-year high. (We should also note gold relative to emerging market currencies is at a 34-month hight.)
Gold against the NYSE hit more than a 2-year high last week. Note how these ratios have surged well above their 400-day moving averages which will now be support. This relative strength reflects that this move in gold extends far beyond US Dollar weakness.

Unless gold somehow loses its gains and closes February below $1180 per ounce then there is no reason to doubt a major trend change and new bull market. Gold is very strong in real terms and has been for weeks. Gold's recovery is now on par with past recoveries and the metal has taken out key resistance at $1180 per ounce.
There will be pullbacks and periods of consolidation but I think the forever bear market is over.