Gold 2013: Why Private Investment Kept Spreading
Tuesday, 1/07/2014 09:16
So gold investment was abandoned by the West in 2013...? Not quite...
GOLD INVESTMENT's big takeaway from its torrid 2013 performance? asks Adrian Ash at BullionVault.
Private households in the West seem to recall the financial crisis more clearly than professional money managers. Because in marked contrast to investment funds, what little gold selling there was from private investors in 2013 was matched by new demand at these sharply lower prices.
The Gold Investor Index measures the numbers of buyers versus sellers on BullionVault, the world-leading precious metals market online. With a reading of 50.0 signalling a perfect balance of buyers and sellers, the index ended 2013 at 52.9, markedly below the reading of 58.3 where it finished 2012.
But the index again showed more buyers than sellers on Bullionvault, which ended the year caring for $1.3 billion of client gold property, held in independent storage in London, New York, Singapore, Toronto and Zurich.
By US Dollar value that was 28.5% down from the end of 2012. The donkey-work in that drop was done by price, however. Because by weight, client gold holdings slipped only 1.0% across the year to 32.3 tonnes – more than it owned by most of the world's national central banks.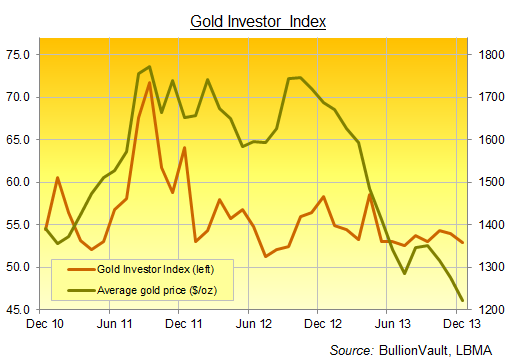 Now used by more than 50,000 people worldwide to buy, store and trade physical gold or silver, Bullionvault created its Gold Investor Index in 2012 to track user activity as a guide to behaviour in the broader gold investment markets.
Some 90% of our users live in Western Europe or North America. So as a proxy for the developed West, Bullionvault offers a window onto how private households – whether they consider themselves investors or savers – are acting directly with their own money with regards to gold. (
You can read more about the Gold Investor Index here.
)
On average across last year, it's worth noting, our monthly index slipped just one per cent in 2013, from 55.0 in 2012 down to 54.0.
So again, this signals more buyers than sellers of investment gold throughout 2013 on Bullionvault. Meaning the appeal of gold continued to broaden even as prices fell. And buying gold as financial insurance at last year's lower prices could soon prove smart if the stock market surge falters in 2014.
Still, the Gold Investor Index's annual average in 2011, when the monthly reading peaked with record-high prices at 71.1 in the September, was 59.5. So the urgency of
buying gold, whether for insurance or immediate gain
, was clearly lower in 2013. And no wonder. World stock markets returned 20% in Dollar terms on the MSCI index.
Who would have felt they needed quite so much gold? Private households, as it happened, more than investment managers. Looking after your own money, it seems, means looking beyond the next quarter's portfolio performance. Remembering the lessons of the financial crisis more clearly counts, too.