The Next 10 Years of GLD and Gold
Tuesday, 11/18/2014 19:00
Ten years since the most successful ETF trust fund launched, what next for gold products...?
The SPDR Gold Trust (NYSEArca:GLD) is turning 10 years old today, and it remains as important now as it was the day it first came to market, writes Cinthia Murphy at Hard Assets Investor, in an article first published by ETF.com.
Its 10-year history tells a story of a fund that democratized access to gold, and propelled commodity investing into the mainstream. GLD was the most successful exchange-traded fund launch ever, gathering $1 billion in assets in less than a week.
But the gold rally that it rode to glory for much of its first decade seems to be over, and competing ideas are clouding the future of this groundbreaking ETF.
Since its launch as the first physical gold ETF in 2004, more than 150 commodity ETFs have followed, and today, commodity ETFs boast more than $60 billion in combined assets. That's a solid footprint that was nonexistent 10 years ago.
"It's transformed the way people think about gold and investing in gold," World Gold Trust's CEO Will Rhind told ETF.com. "It also opened the door for investing in commodities more broadly as an asset class, which has become a key portfolio component over the last 10 years."
As Rick Rule, founder of Sprott Global Resource Investments, puts it:
"The best judgment of a product's utility to the market is the market's acceptance of the product, and the market's acceptance of GLD is extraordinary."
Indeed, GLD was the first physical gold ETF listed in the US. It's the biggest and it's astonishingly liquid, trading about $825 million on average every single day, with a penny-wide spread.
But GLD, which briefly was the biggest ETF in the world, is now barely clinging to the No.8 spot in ETF.com's ranking of the Biggest ETFs. For a very brief stint in August 2011, the fund actually managed to outrank the SPDR S&P 500 ETF (NYSE:SPY) as the biggest ETF in the world. It had more than $76 billion in assets at the time, almost three times the $26.7 billion it has now.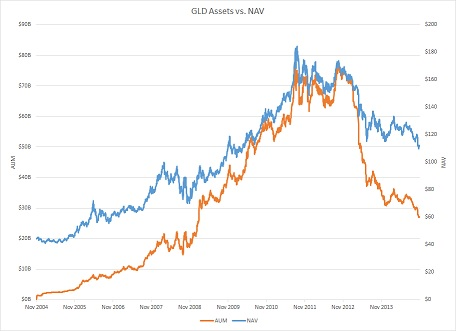 Behind the redemptions that have been going on for months is improving investor sentiment when it comes to the US economy, the stock market and prospects for growth going forward.
Gold is largely seen as a safe-haven asset for stormy weather, so it's unsurprising that it fell out of favor once in a quantitative-easing-fueled recovery that has pushed asset prices to record levels.
That could be about to change, as gold prices hover at what many see as the notional cost of production; namely, about $1200 an ounce.
"Investors are already starting to look at GLD and the gold market as a market that's returning to fundamentals," Rhind said. "Post-financial crisis, a lot of investors bought gold as a tail-risk hedge against market collapse, which never transpired in the way investors were expecting."
"As that money came out, the investors who have remained in GLD are much more strategic in nature, and see gold as a strategic component in a diversified portfolio, which is very different from a tactical play," added Rhind.
GLD has remained the largest and most liquid gold ETF throughout its 10-year history, but it is navigating now in an increasingly competitive turf, and one that should continue to grow with so-called next-generation gold funds that look to improve investor access, tax treatments, redeem-for-gold features, etc.
Funds such as the Merk Gold Trust (OUNZ), which came to market earlier this year, epitomize the evolving nature of gold investing thanks to its unprecedented redeem-for-gold features to even the smallest of investors – for a fee. GLD's structure only allows redemption for metal for large order sizes of at least 100,000 shares, which equates to millions of Dollars.
The World Gold Council, too, is already spearheading a new wave of product development that should, again, change the way investors access gold, Rhind told ETF.com.
Gold ETFs have removed a lot of friction in the marketplace, and created efficiencies in the market because of their liquidity and economies of scale, ultimately lowering prices for investors, Rhind notes. But there's plenty of room to innovate, even if details of such innovation in the works are still off limits due to regulatory scrutiny, he says.
"GLD is the category leader, but we are embarking on building the next generation of gold products at the World Gold Council [ Ed: an investor in BullionVault since 2010] not to replace GLD but to complement GLD, and give people additional ways to invest in gold," Rhind explained. "We are committed to expanding the category over the next 10 years."