Europe Like 1931, Only Worse
Wednesday, 9/28/2011 16:37
Europe's debt disaster has become a farce. But tragedy beckons...


TODAY'S PARALLELS with the situation in 1931 are eerie, writes Dan Denning at The Daly Reckoning Australia.

But there are also major differences, which is why this drama has dragged on for so long.

Amongst Europe's major powers there is a strong desire to maintain the status quo. France and to a lesser extent Germany, are doing their utmost to keep the Eurozone intact. Back in the 1930s, it was pretty much every man for himself. Great War enmities lingered and spilled over to the economic and political sphere. Coordinated action was impossible.

While there are certainly differences between then and now, you should ask - will the outcome be any different?

Greece is sliding towards default. It would've happened back in 2010 but the politicians and bankers did all they could to avoid this impending reality. They provided Greece with billions of Dollars in loans, hoping growth would pull the country out of the hole. Instead, the depression has deepened and Greece has just dug itself in deeper.

This ensures the eventual day of reckoning will be that much worse when it arrives.

The whole Euro-debt crisis has become a farce. Each day the market reacts to rumours about a potential change to the situation. Big rallies and declines characterise each day's trading. This is a feature of a fragile and vulnerable market. Confidence is fleeting.

On the one hand, the market is saying a Greek default is imminent. On the other, those with an interest in maintaining the status quo make soothing statements about Greece sticking to its austerity program and remaining a part of the Eurozone.

In my opinion, the market is far smarter than a bunch of determined and self-interested politicians and bankers. Greek one-year bonds are yielding a massive 134% in the secondary market. The two-year note trades on a yield of nearly 77%.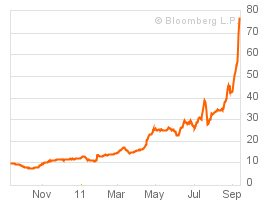 Greece simply doesn't have enough money to endure. It desperately needs a €8bn loan from the European Union and International Monetary Fund to be able to pay its bills. The loan is due in the next couple of weeks but it is under threat because Greece has not met previously agreed austerity targets.

So over the weekend, Greek politicians proposed a new property tax to try and secure the rescue funding. Without it, a default is a certainty. Like Australians, the Greeks love their property and further civil disorder will stem from these latest measures.

Regardless of whether the tax is actually collected though, the intention to do so will be enough for nervous Eurocrats to release the next tranche of the rescue loan. It's not really a kick, but the can will be scuffed down the road for a few more weeks at least.

Buying Gold today...?