Please Europe, "Do Something"!
Wednesday, 12/01/2010 10:05
Bondholders are acting where Euro politicians won't...

SO MUCH THEN for the supposed confidence-building announcements from the EU over the weekend! writes Greg Canavan, editor of Sound Money, Sound Investments, for Dan Denning's Daily Reckoning Australia.
European equity markets fell heavily when trading resumed on Monday. Bond yields in Portugal, Spain, Belgium and even Italy continued to rise to new highs on Tuesday, too.
The bureaucrats in the EU are losing their already tenuous grip on the situation. Despite assurances that senior bondholders will not take 'haircuts' on their investments (not on lending before 2013 anyway) markets are imposing their own form of ruthless discipline.
For years the concept of risk was ignored. For years countries like Greece, Ireland and Portugal could borrow on terms almost identical to Germany, despite massive differences in economic structures.
Now, at a time when EU officials are desperately trying to convince markets that risk still doesn't matter – that you can still have reward without risk – the markets are not buying it.
This puts mounting pressure on the European Central Bank (ECB) to 'do something'. It meets on Thursday to discuss monetary policy. Bond investors will be sweating on the bank to open the liquidity floodgates and buy up peripheral European debt big time.
Whether it will do this is questionable. But even if it does, such action would only push the problem a few months down the track. We're dealing with a problem of solvency here, not a liquidity problem. Such problems cannot be dealt with by temporarily monetizing debt.
We wonder how Ben Bernanke is feeling about all this. On the one hand, the US Fed chairman's probably relived that some other central bankers are the centre of attention for a change. On the other, he's probably gutted that his QEII plans seem to have backfired.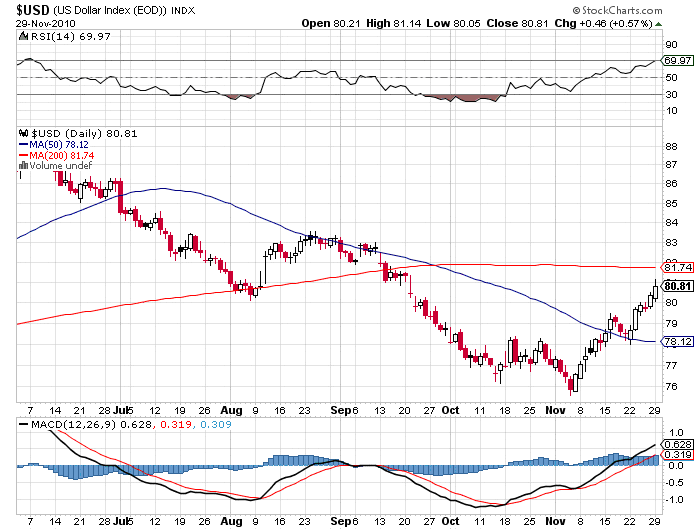 Things haven't exactly gone according to plan for Ben. The Dollar has rallied strongly since Bernanke announced his money printing scheme in early November.
Yet the Fed's trying to lower the value of the Dollar, not increase it, to generate inflation and boost export competitiveness. But Bernanke's forgetting that minor point about the US Dollar being the world's reserve currency. In times of economic stability, the US Dollar will generally trade according to domestic fundamentals. In times of turmoil though, it retains its safe haven status.
So, because the Euro is under all sorts of pressure, capital is now flowing back to the US Dollar. It's all relative in the world of currencies and as bad as the US Dollar looks, it's not as bad as all the other major currencies.
If there's one lesson to be learned from the Euro crisis it's that problems begin at the core. The US Dollar is at the epicenter of the global economy. The peripheral currencies (Euro, Sterling, Yen) will likely come under major pressure before the greenback faces its day of reckoning.
But one thing is for sure, the Dollar is not as good as gold. Gold Bullion has been in a consolidation phase, but just doesn't seem to want to put in a decent correction. Dips are bought with gusto. It's a sign of a powerful bull market when everyone seems to be waiting for a correction and it doesn't happen.
The bull market in gold is the mirror image of the bear market in government policymaking and fiat currencies. The trend has a long way to run yet.

Gold Investing – now simple, secure and cost-effective like nowhere else at world No.1 BullionVault...