New Gold Buying Hits 21-Month High
Tuesday, 2/03/2015 10:37
But so do sales, led by 2013's disappointed 'bargain hunters', leaving sentiment at 5-year low...
INVESTORS buying gold for the first time on BullionVault jumped last month to the highest level since April 2013, writes Adrian Ash at the world-leading physical bullion exchange online.
But so too did the number of existing customers cutting or quitting their gold holdings.
That left our Gold Investor Index – a measure of sentiment towards buying gold – at the same 5-year low hit in December. And it points, perhaps, to a headwind for private gold investment in 2015.
Because while January's headlines gave good reason to buy gold as insurance for your savings, last month's sharp price rise also gave some existing owners the chance to take profits – or cut their losses – depending on when they bought.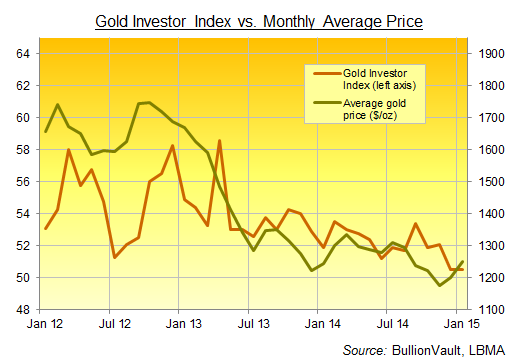 In short, it measures private-investor sentiment towards gold using trading data from
BullionVault
, the largest provider of physical bullion ownership online.
A reading of 50.0 would indicate a perfect balance of people starting or growing their gold holdings against those cutting or quitting. The Gold Investor Index peaked at 71.7 in September 2011, and hit a series low of 48.8 in February 2010.
And in January 2015 it was unchanged at 50.5, repeating December's near 5-year low.
How come? Surely 2015 began with a bang for gold prices? Currency turmoil, quantitative easing and plunging interest rates are back, repeating the chaos of the financial crisis. And last month saw the strongest growth in new BullionVault users since April 2013, when the fastest price crash in three decades unleashed a flood of bargain-hunting demand.
Those bargain hunters of Spring 2013, however, then saw gold prices fall further. Gold lost 40% top to bottom between 2011 and late 2014. And even after rising up to 15% since last November's new 5-year Dollar lows, gold remains well below its peak.
So the surge in new gold buying of January 2015 met an equal surge in the number of private investors choosing to sell. Because last month's multi-month highs gave traders the chance to take profits – ready to buy back – and it also let people disappointed by gold's performance over recent years cut their losses.
It's signal, we think, that out of all BullionVault users who reduced their gold holdings last month, those who sold out completely were twice as likely to have first bought during or after the sharp 2013 price crash as those who now hold the typical gold investment worth $15,000 or more (some £10,000).
Amongst those more recent buyers, some people did indeed get a bargain. Gold priced in Euros, for instance, averaged a 6.9% gain last month from its whole 2013-2014 average. But other investors who thought they'd bought a bargain in fact caught a falling knife. Average Sterling gold prices for UK investors fell 15% last year from 2013.
That contrasts with the experience of longer-standing investors, who bought before the peak of the financial crisis and know for themselves how well gold performed when needed. Because amid the kind of currency turmoil, quantitative easing and plunging interest rates now being repeated in early 2015, gold really did act as insurance for broader portfolios of stocks, bonds and real estate.
Outside BullionVault, a similar pattern perhaps as 2015 began. We can't speak for "scrap" flows from coin or small bar investors. But the
US Mint saw the weakest January demand
from collectors and retail investors to buy American gold coins in 7 years last month, reaching
barely one-third the record level
of January 2013. Some US and UK coin shops meantime advertised what they called their "biggest ever" online discounts, cutting some of the large premiums they charge in a bid to draw bargain-hunter interest.
Trimming 5% off a 20 French Franc gold coin, however, did little to undo January's underlying rise in wholesale spot gold prices – and it still left such "retail" products 8.5% more expensive than the most efficient gold bullion available to private investors.
Amongst BullionVault's new users, we also think it signal that the number of larger cash transfers worth $150,000 or more – ten times the median customer's holding by value – rose 20% from last year's monthly average. Professional money managers meantime poured money into the exchange-traded SPDR Gold Trust (NYSEArca:GLD) at the
fastest pace since summer 2011
.
Might 2013's disappointed bargain-hunters risk repeating their mistake, only in reverse, by quitting gold just as the real money starts coming back in? If so, this could present a headwind to gold's broader performance in 2015.
The number of people transferring money last month for the first time to buy metal on BullionVault was fully 65% above the 2014 average. But overall, the weight of gold belonging to BullionVault slipped for the third month running. Because the number of people reducing or exiting their gold holdings also jumped – up some 64% from December's level – to the largest number since April 2013.
As shown by the public
Daily Audit of client bullion property
and cash, BullionVault users' gold holdings in aggregate ended January 0.4 tonnes below October's record high of 33.2 tonnes, a drop of 1.3%. Gold prices, in contrast, were sharply higher. Indeed, December-to-January marked only the second two-month period since August 2011 that gold prices rose both month-on-month and on their monthly average against each of the US Dollar, British Pound and Euro – the three trading currencies of the professional wholesale gold market, and the three currencies you can use to trade on BullionVault.
Bear markets only turn, however, when sentiment is weak and disappointed investors are
forced to think about getting out
. Managed money has meantime started to change its view as 2015 begins. Private investors choosing to buy gold regardless of near-term direction
may also find it proves useful insurance
for the risks now facing the equity, bond and real estate markets.