The other side of a bubble
Wednesday, 4/11/2007 16:33
Twenty years after the S&L scandal, all that's left are concrete and weeds...
PICTURED BELOW is not an abandoned Arkansas mining town. You can tell that it's not an Arkansas mining town because there are no Texans leaping out of their Suburbans asking directions to Branson. That, and there are no mines.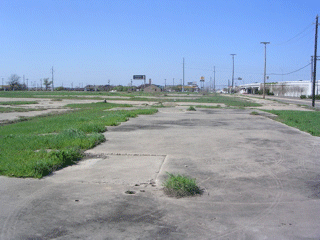 The only mining here was the financial kind back when Texas Savings and Loans prospected for builders and vice versa.

Ironically called "thrifts", more than 500 S&Ls went bankrupt around the United States back in the 1980s. Much of this was bad luck. For example, some S&Ls loaned money to condo builders who offered to pay condo buyers to hurry up and make their purchases.

Others made large political contributions or bought perfectly good Lear jets which did not provide a return on assets sufficient to maintain profitability. Often, lavish parties did not translate into the profitable business relationships imagined by S&L executives.

Bottom line, expectations were not met, and thrifts folded like American Idol contestants under a Simon haranguing.

Luckily for depositors, their money was insured by the federal government, and lucky for the federal government, it was able to float a bunch of bonds to pay off the depositors. In 1995, Business Week figured the tab for the S&L mess came to $150 billion, before interest on all that government debt.

The above picture is actually some of the remains of a subset of the S&L scandal in the "I-30 Corridor" just east of Dallas. The I-30 Corridor scandal involved a house painter-turned mega developer, a conviction for stealing $100 million from five S&Ls, and ultimately, the decision to scrape dozens of condos clean to the foundation. Twenty years after the scandal, all that's left are concrete and weeds.

Luckily, just down the highway, the I-30 scandal is invisible beneath the recently constructed Bass Pro Shop. For those not familiar with this retailer, the typical Bass Pro Shop offers sportsmen 42 hectares of hunting and fishing gear, including enough camouflage to clothe the Swiss Army should they ever need to hide from anyone.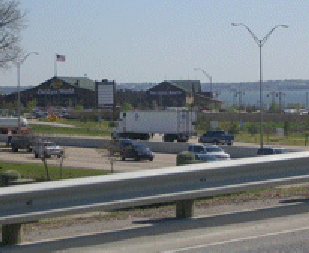 Bass Pro is part of a a new I-30 Corridor development that is expected to include restaurants, other retailers, and a 144-room hotel to house sportsmen too tired to drive home after the turkey call seminar. The whole shebang was made possible by a package of incentives that included tax rebates and $24 million in bond money, not to mention a slew of demand-boosting home equity loans that allowed hunters to upgrade from walking the deer lease to riding a four-wheeler.

Because mortgage loans funded everything from four-wheelers to million dollar California cottages over the last few years, for a while it was puzzling why the Fed chairman has been so confident that subprime problems wouldn't spread across the economy like Legionaire's disease across a cruise ship. Just last Wednesday, Mr. Bernanke confidently told a congressional committee that the subprime debacle would be "contained".

This is quite a claim to swallow. Thanks to analysis by Paul Kasriel at Northern Trust, we already know that housing starts will be down at least 36% from their peak before this down cycle is over (the tally through January), and the average decline historically is more like 47%. As Mr. Kasriel is kind enough to note, such declines almost always trigger a recession. But for the US to experience an average decline, a person might think that we'd also have to experience an average ascent. Instead, the ascent was fast enough to pin your ears back.

Kasriel's numbers jive with those from a recent Credit Suisse report that predicts a35-45% drop-off in new starts from the peak of 2.1 million homes. These figures came about by figuring out how many fewer subprime, Alt-A and investment loans are likely to be made in the future, with another slice off the top to account for consumer queasiness.

The Credit Suisse report is full of depressing stats, like:
a) The overall share of prime conventional loans has declined from an estimated 66% of total purchase dollar originations in 2002 to 45% in 2006.
b) Interest-Only and Negative Amortization Share of Total Purchase Mortgage Originations: 2003: 6%, 2004: 25%, 2005: 29%, 2006: 23%

Combine those figures with this obvious notion we'll call c): The US economy is not just an economy of home builders. We're an economy of mortgage bankers, title company clerks, construction crews, loan packagers and repackagers, car dealers, Best Buy employees, and guys who make plantation shutters to fit in architecturally pleasing rounded windows. Even the Home Depot employees who jump behind stacks of plywood when you need help finding Weed Eater line are at risk. As are Wal-Mart greeters and, who would have guessed it, investors in subprime car loans.

So how can all the subprime unfortunates, those losing their homes, those cutting back on purchases to retain their homes, and those counting on those loans paying off to achieve their expected rate of return, how can all those people be isolated from the rest of the economy? How?

Here's how: This all became clear after watching a little known internet film making the rounds. Or maybe it was after eating late night nachos. Anyway, the plan goes something like this:

Problem: How to separate subprime woes from the rest of the economy?

Answer: Separate the subprime woes from the rest of the economy. That is, relocate the problem borrowers so the healthy borrowers won't be depressed by the subprime behavior of their neighbors. All that's needed is a) lots of space for the dispossessed to begin their lives anew. And b) a plan to deal with the vacated real estate.

Well, they've already done a heckuva job on the former. After all, there's plenty of vacant land in New Orleans. But not for long. Soon, foreclosed-upon borrowers will flood the area, all according to plan. (Do you think they developed Doppler radar just so weathermen could show their maps in color? Why does FEMA have thousands of extra trailers?)

But step two is even more ingenious. The government makes whole all holders of mortgage backed products, all the way from CDOs to IToldYouSo's. Then, a New Deal style program is implemented to pay farmers to destroy the foreclosed properties and plant corn in their place. Why corn? To boost ethanol feedstocks!

The whole plan is so clever you'd have to believe it was in place prior to the current administration. And it sure beats 20 years of empty concrete.