Gold 'Set to Drive' Silver Price Gains in 2019
Friday, 2/01/2019 09:45
Solar PV growth now key to industrial demand...
SILVER PRICES will track gold to see a modest gain in 2019 according to the average forecast from analysts taking part in this year's survey by wholesale metals trade body the London Bullion Market Association.
After falling within 1 cent of 2015's six-year low of $15.70 per ounce in 2018, the annual average silver price is expected to rise 3.6% this year according to the average forecast in this week's new LBMA survey.
Leading the bulls, independent analyst Rhona O'Connell – also giving the most bullish gold price forecast – sees silver "cleaving more" to its precious rather than industrial-metal character, rising to an annual average of $17.55 because "gold is likely to be the key driver."
The 3 most bearish silver-price forecasts in contrast see risks from higher US interest rates, a slowdown in global economic growth, plus weak investment demand.
On a 12-month basis, silver and gold prices have moved in the same direction against the US Dollar some 76.2% of the time over the last half century according to analysis by BullionVault, with silver typically extending 1-year moves in gold by 53.0%.
Both this volatility and co-movement have increased over the last decade, with silver and gold moving up or down together 80.0% of the time from 1 year before and
silver prices
extending the change in gold by 86.0% (median average) when they moved together since New Year 2009.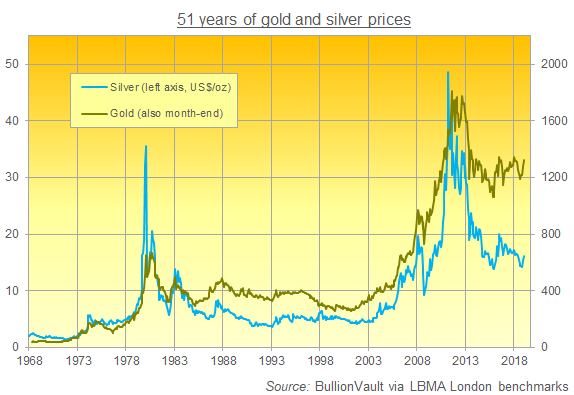 Outside the
LBMA's annual forecast competition
, analysts at data and news agency Bloomberg foresee "50% upside" for silver industrial's demand over the next 5 years, outstripping the growth in industrial use of copper and also gold.
But "with many more industrial uses" than the yellow precious metal, "silver demand is also
more susceptible
to slowing global growth," says a note from US investment bank and London bullion market maker Goldman Sachs.
This week's LBMA silver price forecast from Jonathan Butler, strategist at Japanese conglomerate Mitsubishi, says electronics and especially electrified-vehicle demand will likely be "positive" in 2019, but most of all "growth in global solar photovoltaic (PV) installations will continue to drive demand for silver, despite a slowing of the Chinese economy – the largest PV market."
Even if PV demand for silver to make solar-energy panels "underperform our expectations" says specialist consultancy Metals Focus in a separate note, "[2019] will still achieve a historically high total in terms of silver consumption...[meaning] the PV sector will comfortably remain one of the largest single consumers of silver globally" despite continued research to cut the amount of metal used in each unit.
"On balance," says Metals Focus, "[this] ongoing thrifting and limited substitution [of silver] should be countered by further capacity installation" until an alternative to today's standard manufacture – cutting the amount of silver needed yet more efficient in converting solar energy into electricity though
hetero-junction technology
(HJT) – "begins to make significant headway."
Meantime, "The weight of institutional money flowing into [silver's] relatively small market should prove sufficient for silver to outperform gold" in 2019 says analyst Neil Meader in Metals Focus' entry to this year's LBMA forecast competition.