Greek Money Mystery
Monday, 5/03/2010 15:55
How Greek savers are choosing to flee the worst currency crisis in three decades...
THERE IS NO last mover advantage in fleeing a debt default. Not least when it's so clearly flagged in advance.
So whether or not the Greek government has to restructure its finances – screwing one set of creditors or another – you can't blame Greek savers for moving a chunk of their money out of the country since New Year.
Holders of Eurozone bonds fearing a little inflationary "solution" might like to take note. But where to go instead? Let's see where Greek savers have gone.
Did the €10.6 billion in cash pulled from Greek bank accounts by private individuals and private businesses during the first quarter simply vanish into wallets and purses? Perhaps, but non-Greek branches of Greek banks is a better guess. Because, all told, Greek-bank liabilities as reported by the European Central Bank rose to a new record in March.
Non-Greek banks altogether were a likely choice too, as were non-Euro currencies. Overall, total Eurozone banking deposits crept 0.02% lower during the first quarter, as the ECB's chart of M3 year-on-year money supply growth shows below.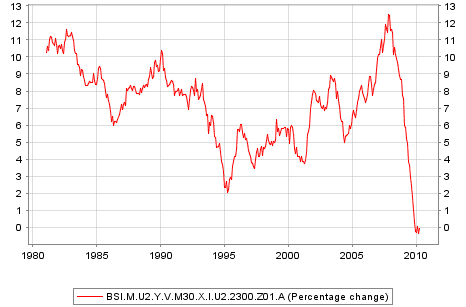 And certainly, a little of the money leaving Greece came here to BullionVault, where it was swapped for Physical Gold.
Euro transfers from Greek bank accounts more than doubled at BullionVault in Jan-Mar., reaching their best quarterly level since the global flight into gold at the end of 2008. Daily traffic from Greek I.P. addresses has also doubled from the start of this year, hitting over 300 visits per day.
Note, we are talking about very small sums here, especially as part of that €10.6bn exit. But it's a straw in the wind, perhaps. And seeing how – on 2009's full-year data from the World Gold Council – European gold demand overtook total demand from both US and Middle Eastern households, jumping by 21% in tonnage terms to stand in third place only to India and China, it might not be the last either.
Currency crises typically prove good for gold prices, if only because it rises in terms of the sunken money. And the world hasn't seen a reserve currency hit quite this much trouble since US Treasuries became "certificates of confiscation" in the late '70s.
Want to buy and own the most secure Gold at the very lowest costs...?