Nothing Good About Inflation
Thursday, 2/21/2008 10:31
Wheat prices are acting like it's 1974 and the Dollar has just been de-coupled from gold...
POOR HAMLET – he was so confused.
"There is nothing either good or bad, but thinking makes it so,"
he tells Rosencrantz and Guildenstern in Act II. But a fist to the face
does not become a ticklish feather merely because you think it so.
The Danish prince did have a point about perception, however.
Two investors can look at the same objective fact – such as rising Gold
Prices, for instance – and because we human beings perceive the world
subjectively through our own experiences and prejudices, they can then
reach opposite conclusions.
Take the battle with inflation now raging at the Reserve Bank of
Australia. This week it made public the notes from its Feb. 5th meeting
in Sydney. And though the report was full of hawkish language about
inflation and the need to reduce strong domestic demand, investors
chose to focus instead on the "strong economy" language and not the
"higher inflation" language. So Aussie stocks rallied.
Inflation is bad. Thinking otherwise doesn't make it so. The RBA
recognizes the trouble in global financial markets, but added in its
notes that "the main risk was that demand would still prove to be too
strong to allow a decline in inflation over a reasonable time period."
The RBA board members "therefore concluded that the outlook for
inflation required an immediate response from monetary policy. The
debate focused on whether the change in the cash rate should be 25 or
50 basis points."
As you might know, the Reserve Bank settled for a 25 point rise,
with another March rise a near certainty. That might curb the borrowing
and spending habits of Aussies. But when it comes to food inflation and
fuel inflation, is there much the Reserve Bank can do about rising
world prices?
Crude oil has closed up nearly 5% in New York trade to cross the
$100 barrier once again. Oil is up 9% on the year and 72% from the same
time last year, but the nominal high is still short of the
inflation-adjusted high in 1980 – suggesting there's further to go yet.
Oil hit $38 in 1980, which in today's ever-more-worthless US
Dollars is about $103 per barrel. Even so, oil's run has caught us a
bit off guard. We're long-term energy bulls here at The Daily Reckoning. But we reckoned slower global growth this year would curb crude demand and bring prices down to the low $80s.
We even thought speculators might cash in some chips and reduce
the investment demand for oil in the futures markets, bringing the
price down more.
We're wrong about that so far. Another oil refinery, this one in
Big Spring, Texas, has suffered an explosion. These refineries have
been running flat out for years, with virtually no down-time for
repairs. Breakdowns are bound to happen.
You also have continued geopolitical instability in Nigeria,
that moron Chavez in Venezuela, and OPEC threatening production cuts.
Concerns about supply have trumped prospects of global growth.
The upshot? Gold Prices were up $23 and trading above $940 in
after-hours access trade on the Comex Wednesday. Platinum slipped from
its new high at $2,174. And wheat? It's set a new record high 16 times
since September.
"The biggest rally in the history of wheat trading defied even
some of the best conventional wisdom, humbling forecasters Goldman
Sachs Group Inc. and the US government," reports Tony Dreibus at
Bloomberg.
Something strange is going on the agricultural markets. Food
inflation is here and prices are soaring. It's partly cyclical. It's
also partly monetary, as all dollar-denominated commodities react to a
weaker US Dollar and a flood of money worldwide.

But there's more to it. Wheat's moving like its 1974...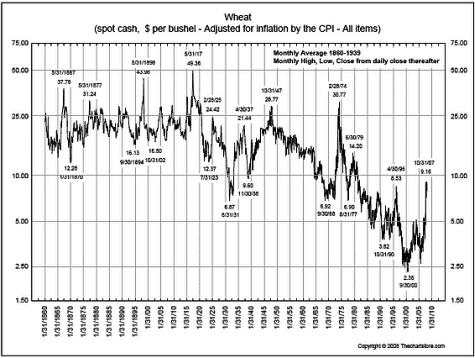 The chart above from my friends at TheChartStore.com shows spot wheat prices (per bushel) since 1860.
As you can see, wheat prices traded in a range for nearly
seventy years between 1860 and 1917. Industrialization and improvements
in agriculture infrastructure led to higher crop yields. But World War
Two put food production (and security) back on uncertain footing, even
leading to the Bengal famine of 1943, where some one million people
starved.
India became independent from Britain in 1947 and the postwar
era – combined with the Green Revolution in agriculture – led to
steadily declining wheat prices. But the exception was 1974, when
wheat, like all other dollar-denominated commodities, reacted to the
decoupling of the US Dollar from gold and the whole world enjoyed a
bear market in stocks alongside surging inflation.
Otherwise known as "stagflation", this combination of slowing
growth plus rising inflation left real interest rates way below zero.
Gold Prices shot higher.
Yet the long-term evidence shows that – up until very recently –
the price of raw materials including food has been going down for
nearly 150 years. Could it really be different today?
Are we now witnessing some sort of super cyclical tipping point
in food inflation, where prices will get more expensive – rather than
continuing to fall? Or is this just another 20th century inflationary
cycle, the kind that comes and goes?
A clue to the answer lies in the chart below. True, central
banks today are inflating as they were in 1974. But there are also
about three billion more people on the planet today than there were the
last time soft commodities reacted to dollar weakness.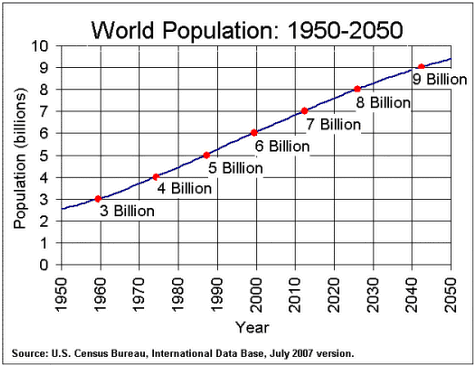 If you only look at the first chart, you'd think wheat would be due for
a correction, having basically matched its 1974, monetarily-motivated
move.
But will the current move prove bigger 34 years later...because the world
is a bigger, hungrier place today?

The Reserve Bank of Australia certainly can't do much about world
population growth, so perhaps it can't now put the food inflation genie
back into the bottle.
China reported that its consumer-price inflation rate ran at
7.1% in January. "Inflation is starting to hurt ordinary people in a
country where tens of millions live in poverty and as much of 50% of
household income is spent on groceries," reports Jane Macartney for The Times of London from Beijing.
"Food, which makes up one third of China's consumer basket, cost
18.2% more in January than a year earlier, after rising 16.7% in the
year to December. Many Chinese say that now they try to avoid pork
because the price of the staple meat for the country's 1.3 billion
people has soared 58.8% from January last year."
The upside for Western investors? Australia's terms of trade
look set to improve further if farm exports start to catch up with
mineral exports. What production of 13.1 million metric tons was up 23%
from last year, but is still down 39% from the five-year average.
And so far in Feb. 2008, the Aussie Dollar is the only major
currency to avoid a sharp decline in terms of Gold Bullion prices, too.
Can it continue to hold its ground even as Australian inflation keeps
rising?
If you can't beat inflation, you might want to back it instead. You certainly can't "think" it away.
Researching your first Gold Investment today? Don't pay more than you should! Make it simple, cheap & ultra-secure at BullionVault...