Gold's £800 Goodbye to Gordon Brown
Thursday, 5/06/2010 18:14
Britain goes to the polls...and gold says "Goodbye" in fine style to Gordon...

HOW SWEET of gold to mark Gordon Brown's last day in power with a new all-time high against the Pound Sterling.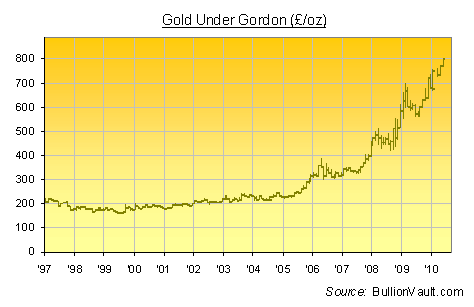 He did so much, short term, to dent the former. But his famous "prudence" – in truth, an abject misreading of both economics and history – has in fact worked to destroy the latter instead.
Perhaps today's valedictory jump...leaping 3.7% to touch £805 an ounce...was just one last blow-off to mark Brown's political passing. But the Gold Price in Sterling looks more ironic than toppish given his legacy of debt.
The man who sold over 55% of the UK's reserves 11 years ago – advising the market two months in advance so it could get itself short...and in fact lending out one-fifth of the UK's total reserves* so gold-sellers could do precisely that, as well – Gordon Brown had come to power with gold trading around £200 per ounce.
But rather than leaving gold prices lower...as his ill-advised sales (well, Goldman Sachs-advised, in fact) did at first...the Irn-Bru chancellor has instead given long-term British gold buyers 23% gains for every year of his prudence.
Cheers, Gordon! We might (grow to) miss your smile. Thanks to your fiscal incontinence, however, it should be a few years yet before we miss your impact on gold.
Ready to Buy Gold...?
* Note: Ahead of Brown's May 1999 announcement, the Treasury's Exchange Equalisation Account had up to 23% of its 715-tonne stockpile out on loan, according to official data. That gave short-sellers the gold they needed to borrow, so they could sell it, and then it buy back lower down...returning it to the government's vaults after pocketing a fat wad as difference.
In fact, by the time that gold prices in Sterling finally broke back to five-year highs above £200 an ounce, the UK government had facilitated more shorting of gold than it had actually sold itself into the market.