3 Reasons the Gold/Silver Ratio "Will Fall" as 2014 Ends
Wednesday, 9/10/2014 19:49
Silver seen outperforming on short-covering, stronger investment and industrial demand...
The GOLD/SILVER RATIO is set to fall as 2015 draws near, according to data consultancy and analysts Metals Focus, with silver outperforming gold prices for 3 reasons.
Tracked by some analysts and traders to see which metal is performing better, the ratio simply divides the price of gold by the price of silver. If it rises, then gold has become more expensive in terms of
silver
.
Although the "lack of investor conviction in gold is likely to continue," says Metals Focus – and while that "does not bode well for silver prices" – the consultancy now expects the
gold/silver ratio
"to consolidate at around current levels before edging lower [ie, silver outperforms gold] as we move into next year."
Peaking above 80 ounces of silver for 1 of gold during the Lehman's Crash of late 2008, the gold/silver ratio then hit three-decade lows near 30 when silver prices spiked to almost $50 per ounce in early 2011.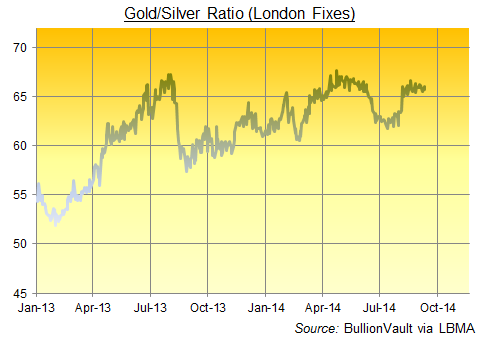 Since then, however, the ratio has returned to the last 15 years' broad range between 50 and 70, and "after a drop to 62:1 in mid-July," says
Metals Focus
, "the gold:silver ratio has since rebounded, hovering above 66:1."
The flatlining of the ratio, says a note from analysts at Commerzbank, is because "in the past few days silver has tracked the performance of the gold price almost 1:1...[meaning] the gold/silver ratio remains virtually unchanged at 66."
"The gold-silver ratio has held flat," agreed bullion market-maker Scotia Mocatta in a technical analysis earlier this week, "forming yet another doji [on Tuesday] within the modestly bullish uptrend channel that has prevailed since August."
A "doji" pattern is a
candlestick formation
where an asset price moves higher and lower during a trading session, only to close the day right back where it opened.
With the gold/silver flatlining at 66, says Scotia's note, "We remain biased to further upside" – meaning gold prices should outperform silver.
Metals Focus disagrees, saying "silver will fare better" than gold – "even if modestly – although we expect prices for both gold and silver to decline somewhat in the coming months."
The consultancy's latest weekly report attributes silver's recent fall to a marked rise in bearish betting by speculative traders in US futures and options - more than doubling during August against a 40% rise in gross investor shorts in gold. So "the scope for a decent short-covering rally appears high."
Fundamentally, it goes on, the gold/silver ratio is likely to fall because industrial demand for silver – which gold does not enjoy – has recovered, "primarily driven by the strength of the electrical and electronics sector."
Silver investment demand has also held firm, Metals Focus adds, particularly amongst private investors and again in contrast to gold.