What is the gold silver ratio?
The gold silver ratio measures the relative strength of gold versus silver. It shows how many ounces of silver it takes to purchase one ounce of gold by simply dividing the current gold price by the current silver price.
The ratio is often tracked by analysts, traders and investors to see which metal is currently performing better and whether it is a better time to buy gold or silver. When it rises, it means that gold has become more valuable compared to silver.
Gold and silver prices generally move in the same direction. But the size of their fluctuations varies greatly.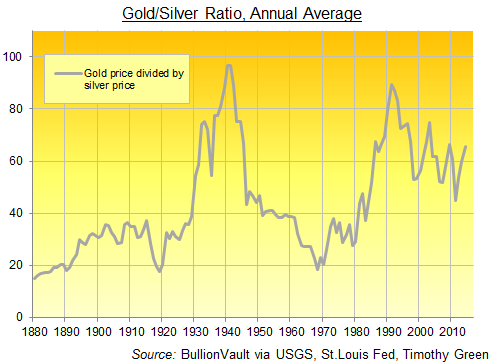 Which factors influence the gold silver ratio?
Among other factors, the value of gold depends on its relative scarcity, silver is around 19 times more abundant than gold. But unlike other speculative commodities, gold is non-consumable, so that its value can be recovered after being used.

Gold has traditionally been viewed as a "safe haven" by investors, especially at times when currency markets and shares are experiencing high rates of volatility. Silver on the other side is different as it has considerably more industrial uses and hence its demand and price depend more on the global economy.
Historical overview
The gold silver ratio has been quoted for over a thousand years. Back then, silver was probably much closer in value to gold than it is today. Analysts reckon a ratio of 3:1 in medieval Japan and 2:1 in ancient Egypt, due to the lack of domestic silver mines in these regions.
But the gold prices increased soon after. Some of the main reasons are the gold's ability to be beaten and stretched to great lengths while remaining its look as well as its property not to tarnish.
The historic level of the gold silver ratio before 1900 was mostly around 16:1. At that time, both gold and silver were still used as money, although, silver stopped to be a legal tender at the turn of the 20th century.
Since then, the gold silver ratio has been far more volatile, ranging between highs of almost 100 and levels as low as 16. Those lows occurred when for example the Hunt brothers, two Texas oil barons, and Warren Buffett purchased huge amounts of silver in the 1970s and 1990s respectively.
During the Lehman's Crash of late 2008, the ratio peaked above 80, followed by a three-decade low near 30 when silver spiked to its all-time record of almost $50 per ounce in 2011.
Over the last two years, the ratio has averaged around 60 and extremes on either side have quickly reversed.
Further outlook on the gold silver ratio
Considering the wide oscillation of the ratio, some analysts claim that it is not the gold that is too costly, but the silver that is undervalued. Therefore, the gold silver ratio should fall again.
Silver is always in demand because of its multiple industrial applications. The main consumers used to be photography and x-ray films, but they have been replaced by photovoltaic and other industrial sectors, primarily electrical and electronics, which are expected to continue to grow.
Regarding gold, HSBC forecast a gold price of $1,205 for 2016. In their opinion, a stronger USD, lower inflationary pressure and weaker Chinese and Indian demand mean that their earlier forecast of $1,275 needed to be lowered.
How can private investors buy physical gold and/or silver?
BullionVault offers a safe, simple and easy way to buy gold and silver at most reliable and competitive prices.

Open a BullionVault account and claim your 4 FREE grams of silver.