Gold and Silver Cut Weekly Gains as Powell Vows 'Higher for Longer'
Friday, 8/25/2023 15:58
GOLD and SILVER both shrugged off new outflows from bullion-backed ETFs, a rising US Dollar, and a rebound towards 16-year highs in long-term US borrowing costs to make solid weekly gains on Friday before dropping hard as Federal Reserve chairman Jerome Powell said the US central bank won't cut interest rates any time soon.
With the overnight Fed Funds rate already at the highest since 2007, "We are prepared to raise rates further if appropriate,"
said Powell
at the annual Jackson Hole central banking symposium in Wyoming, adding that the Fed intends to "hold policy at a restrictive level until we are confident that inflation is moving sustainably down toward our [2%] objective."
"The last hike of this cycle, we suspect, was now almost a month ago," says a note from UK consultancy Capital Economics.
"Despite the rise in [longer-term] yields, investors seem to agree with us...and expectations for the peak fed funds rate have been remarkably stable over the past few weeks."
Gold bullion prices rose back to $1920 per Troy ounce as Powell began speaking, showing the first weekly gain in 5 at London's afternoon benchmark auction with a 1.1% rise from last Friday, before halving that gain at $1905.
Silver prices
meantime traded at $24.19 per Troy ounce around London's midday auction, jumping 6.1% from last Friday's Fix, before spiking and then losing 40 cents to slip back below $24.
Global stock markets also rallied and then fell back on Powell's comments at Jackson Hole, as did bond prices, with 10-year US Treasury yields slipping only 3 basis points from last Friday's finish at 4.26% per annum, the highest weekly close since November 2007 and markedly above the pace of US consumer-price inflation.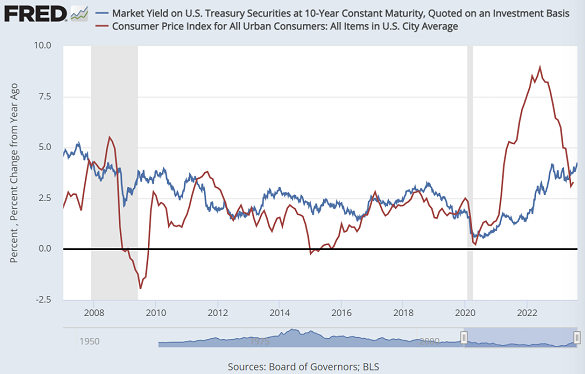 European bond yields rallied further following Wednesday's
steep plunge on weak PMI economic activity
reports, while the Dollar whipped sharply on the FX market as Powell spoke, eventually holding near 11-week highs on its trade-weighted index against the rest of the world's major currencies.
The rise in longer-term borrowing costs "is helpful," said Boston Fed President Susan Collins to Yahoo on Thursday, explaining that "higher longer[-term] rates are consistent with an understanding that [reducing inflation] is going to take some time."
The rise in longer-term borrowing costs "
helps cool the economy
some," agreed Philadelphia Fed President Patrick Harker to CNBC, again because it supports the US central bank's hikes to overnight rates aimed at cutting inflation down to the Fed's 2% target.
This week's jump in silver prices saw the giant SLV bullion-backed ETF shrink 0.6% on Thursday as investors sold out of the trust, taking its size down to the smallest since mid-May 2020 with a 2nd consecutive weekly outflow.
The giant GLD and IAU
gold ETFs
meantime both headed for their 5th weekly outflow in a row, down 0.7% and 0.4% respectively in size from last Friday to their
smallest since early 2020
.
This week's BRICS summit in Johannesberg saw Brazil's President Lula da Silva call for a common currency among his counterparts from Russia, India, China and South Africa – but without any specific proposals or plans – while the group
invited 6 other nations to join
their meetings, led by oil-producers Saudi Arabia and Iran.
Next week's economic data will bring key US jobs figures on Wednesday and Friday, with a 2nd estimate for Q2 GDP growth on Thursday.