Gold to Fall 5% in 2016, Silver -6%: LBMA Experts
Tuesday, 2/02/2016 15:29
Gold will average $1103, silver $14.74 says LBMA Forecast average...
GOLD PRICES in 2016 will slide to a daily mean of $1103 per ounce, according to the average prediction from 31 professional analysts published today in the annual Forecast Survey from trade body the London Bullion Market Association.
Swiss investment and bullion bank UBS makes the most bullish gold-price forecast for 2016, leading the average prediction by 11% with an average gold price target of $1225 per ounce.
UBS precious metals analyst Joni Teves foresees a low of $1000 and a high of $1300 across 2016 as a whole.
That comes some 2.2% and 5.6% respectively above the average low/high forecast in the new LBMA survey at $978 and $1231.
Teves – who hasn't to date won the competition across any of gold, silver, platinum or palladium – is also the most bullish silver forecaster, beating the average 2016 prediction of just $14.74 by more than 16% with a target of $17.20 per ounce.
Last year's silver-price winner, in contrast, sees silver falling further to average just $13.50 per ounce, marking a drop of 13% from 2015.
That forecast, from Rene Hochreiter of independent analysts Sieberana Research, comes some 9% below today's LBMA survey average. Matched as a bearish outlook only by Robin Bhar of French bank Societe Generale, it is beaten by US brokerage INTL FCStone's Ed Meir ($13.33) as well as former Forecast winners Philip Klapwijk of Precious Metals Insights ($13.19) and French bank Natixis' Bernard Dahdah ($12.50).
Now he sees gold sliding another 16% in 2016 to average $970, with a low of $900 and a high at $1300.
"Natixis expects further rate hikes by the Fed this year," Dahdah explains, "which should increase the opportunity cost of holding [gold]" as the metal pays no interest.
Contrary to the action so far in 2016, Dahdah also believes that outflows from physically-backed ETF investment trusts "are expected to continue as higher-yielding investments and a stronger Dollar become more attractive to investors."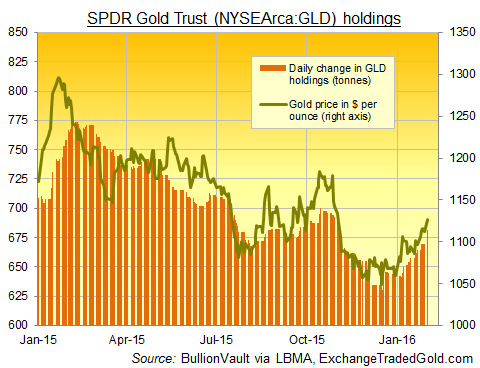 But "while an environment of rising interest rates dampens the outlook for gold," Teves at UBS counters, "we continue to believe that the bulk of the adjustment has already occurred."
In particular, bullish positioning amongst money managers and hedge funds "is now quite lean...allowing investors to re-establish gold exposures at better levels" as they defend against risks in other asset classes and the economy.
More bearish on gold even than Dahdah at Natixis is Martin Squires at French bank BNP Paribas, forecasting gold to average $960 per ounce in 2016 as prices are "pressured by the slower global growth, strengthening US Dollar and the associated expectation of three further US rate hikes."