Gold in US Shutdown: The 1996 Lesson
Wednesday, 10/02/2013 20:21
How did the gold price move last time the US government went into shutdown...?
The GOLD PRICE tumbled to two-month lows Monday, breaking below the $1300 mark, says Sumit Roy at Hard Assets Investor.
The breakdown surprised some traders who thought the yellow metal would benefit from the ongoing political dysfunction in Washington, aka the shutdown.
In our view, gold is falling because no one believes that the government shutdown will last beyond a few days, perhaps a few weeks at the most. No one wants to be caught holding the bag once a resolution is inevitably reached.
By the same token, although the debt ceiling deadline of Oct. 17 is fast approaching, no one truly believes that the United States will default on its obligations. The stakes are just too high, and that despite their differences, Democrats and Republicans will reach a deal to avert crisis.
Of course, Washington could surprise everyone and the shutdown could last longer than expected, or the US could default – if only briefly. These are low-probability events, but they could happen. In those cases, gold may rally – or it might not, as risk aversion sweeps across financial markets, pummeling all asset classes.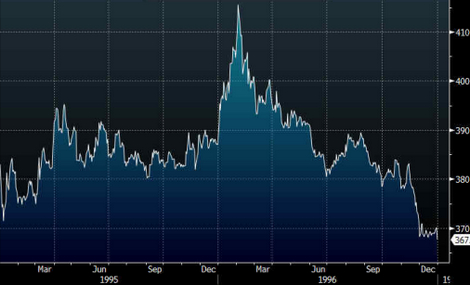 If history is any guide, then we should look at the 1996 shutdown for clues to gold.
Gold prices would climb as the government shutdown went on, but then quickly give up those gains when normal operations resume. During the last shutdown of the federal government, between Dec. 16, 1995 and Jan. 6, 1996, gold rallied as much as 7.5% from $386 on Dec. 15 to a high of $416 on Jan. 2.
However, as can be seen from the chart, gold proceeded to fall sharply once the shutdown ended.
Of course, in the case of a debt default, there is no precedent. We can only speculate that the resulting panic in financial markets will be a negative for gold in the near term, though longer term, such an event would bolster the case for owning the yellow metal.