Gold Price's Link with Real Rates Weakening as US 10-Year Falls to New Record, Deflation Hits Euro
Wednesday, 9/02/2020 13:58
GOLD PRICES bounced $5 per ounce lunchtime Wednesday in London from $1960 – their lowest of the week so far – as European stock markets rose sharply from 4 days of losses amid a drop in both the 19-nation Euro currency and longer-term interest rates following data showing the cost of living across the Eurozone falling into deflation for the first time 4 years, writes Adrian Ash at BullionVault.
Euro gold prices rose towards €1660 per ounce, the top of the last 2 weeks' trading range.
That, like Wednesday's US Dollar and Euro gold price, marked a new record high when first reached in late-July.
Inflation-adjusted yields on 10-year US Treasury bonds meantime tell Wednesday to new lifetime lows at -1.11% per annum, while real rates on 5-year debt fell to -1.44%, the lowest since Spring 2013.
Gold's inverse relationship with real interest rates
reached a near-perfect -1.00 in early August as the metal set its current all-time high of $2075, but has weakened markedly since, with the 5-week correlation between Dollar gold prices and 10-year TIPS reaching -0.58 on a rolling 5-week basis after touching -0.99.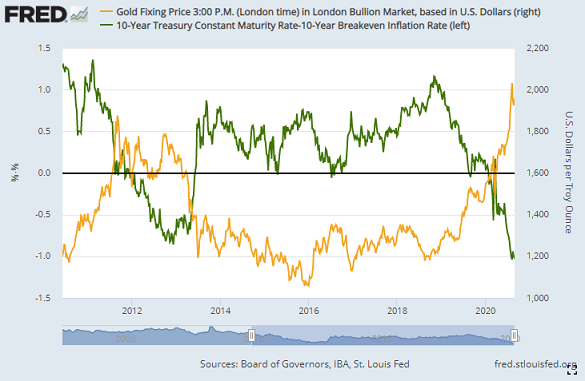 August brought "plenty of action to drive position rebalancing," says a note from the Asian trading desk of Swiss refining and finance group MKS Pamp, pointing to last week's Jackson Hole speech from US Federal Reserve chief Jerome Powell – vowing to let inflation rise above its 2% target to support the economic recovery – plus Japanese prime minister Shinzo Abe's surprise resignation for health reasons.
"[But] in the end it was largely old themes which prevailed – Dollar weaker, gold stronger, and US equities higher...with 'reflation' trades stepping back in."
"After traders had a weekend to think about Powell's speech at Not-Jackson Hole," says Bloomberg columnist John Authers, "it's
had the desired effect
," with 10-year inflation expectations rising even as bond yields fall, pulling the real cost of borrowing further below zero.
Also reviewing Powell's Jackson Hole speech, "When are we likely to see US inflation above 2%?" asks Rhona O'Connell at brokerage StoneX.
"Not any time soon, we suspect. While there are some green shoots of recovery, there is still a range of fundamental weaknesses in the United States economy that suggest the Fed will not need to police overshoots in inflation for a few years yet."
Although some of that deflation came from a cut in Germany's rate of sales tax – aimed at boosting consumer spending – "Monetary policy in the Eurozone will
need to remain extremely loose
for many more years to come," reckons Jack Allen-Reynolds, senior European economist at Capital Economics in London, while strategist Frederik Ducrozet at Pictet Wealth Management thinks the European Central Bank will increase its Pandemic Emergency Purchase Programme, "most likely by €500 billion [$599bn] in December."
Gaining over 1.9% on the EuroStoxx 600 index today, the region's stock markets rose alongside bond prices, with the annual yield offered to new buyers of 10-year German Bunds falling to the lowest in over a week at -0.45%.