Yuan and Yen Depreciation Sees Gold Prices Hit Fresh Record Highs
Monday, 9/04/2023 14:34
GOLD PRICES in China and Japan – the world's 2nd and 3rd largest national economies respectively – hit fresh all-time highs on Monday as both the Yuan and the Yen continued to weaken against the Dollar on the FX market, writes Atsuko Whitehouse at BullionVault.
US Dollar gold meanwhile steadied on Monday after rallying into the end of the summer amid speculation that the Federal Reserve has reached the end of its rate-raising cycle as Beijing tries to stabilize China's economy with a steady drip of policy stimulus measures.
"Gold is also one way locals can
hedge against CNY
depreciation," say analysts at Citi Research of the Chinese currency.
The Yuan has weakened by more than 5% against the US Dollar so far this year, including a 1.6% drop in August which saw the People's Bank of China on Friday cut the amount of foreign currency that financial institutions are required to hold in reserve.
Gold prices on the Shanghai Gold Exchange rose to ¥465 per gram overnight, 0.4% higher than
last week's new gold record
peak, and continued to show a historic premium to London quotes, offering new imports of bullion an incentive of $45 per Troy ounce, rebounding from last week's from new all-time highs.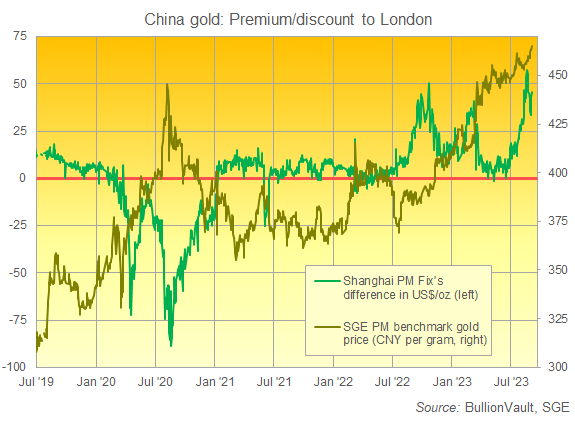 "It seems policymakers are intent on at least temporarily curbing gold demand," Citi continues in a recent note, attributing the recent spike in Shanghai premiums to the reduced number of gold import licenses issued to local banks by the People's Bank of China, a move
first identified by BullionVault
in July as the Yuan worsened its drop on the currency markets.
Gold prices in Japanese Yen also reached a new all-time high in early trading on Monday, climbing to ¥9152 per gram in spot-market trade as the currency traded over 11% lower for 2023 to with 2.3% decline against the Dollar last month.
"The rise in US interest rates is naturally a factor in the rise of the Dollar, which in turn creates Yen depreciation," says Bruce Ikemizu, chief director of the
Japan Bullion Market Association
, also pointing out that the strong performance of gold has diverged from its typical relationship with interest rates, also reflected in the "double whammy" of the rise in Yen-denominated gold.
"Like equities, which have
continued to shrug off
the negative implications of rising real [interest] rates, gold – which moves inversely to real rates and in turn to the US Dollar DXY – has remained extremely resilient," noted Lisa Shalett, chief investment officer at Morgan Stanley Wealth Management last week.
The Dollar index – a measure of the US currency's value versus its major peers – fell 0.2% on Monday following two consecutive daily advances.
Ahead of the Fed's meeting scheduled on 19-20 September, traders
now see a 93% chance
of the US central bank leaving Dollar interest rates unchanged this month, increasing from 78% a week ago.
Gold prices in the US Dollar edged up by 0.1% to $1944 per ounce after rising 1.3% last week, faded from Friday's 1-month high at $1952 after
mixed news on the US jobs market
was followed by less-awful data from the manufacturing sector.
Already back to mid-June highs for UK and Euro investors, wholesale bullion in the spot market edged lower 0.2% to £1538 and €1798 per ounce on Monday.
European shares rose meanwhile, with the pan-European Stoxx 600 index up 0.5% Monday lunchtime, echoing an upbeat mood in Asia, led by Chinese shares after embattled Chinese property developer Country Garden won approval from its creditors to extend payments for an onshore private bond.
More policy action is expected from Beijing, including relaxing restrictions on home buying.
"Chinese newspapers
reported a jump
in real estate transactions in Beijing and Shanghai over the weekend after the cuts to mortgage rates and downpayment ratios," say analysts at RBC Capital Markets.