Gold Price Hits Record Highs 4 Days in a Row, Analysts Predict Further Gains, 'Nowhere Near' All-Time High in Real Terms
Thursday, 8/06/2020 14:38
GOLD PRICES have now hit fresh highs four days in a row while Thursday saw European stocks fall as traders focus on US stimulus talks and US job data writes Atsuko Whitehouse.
Spot gold leaped 1.4% to hit $2064.83 per ounce, another new all-time high this Thursday lunch time. It has already surged 4.5% this week, breaking the $2000 milestone, after gold prices in July rose 6.4%, the fastest gain since February 2020. It has gained 35% this year and is one of 2020's best performing assets.
"Gold is at all-time highs but strong fundamentals and demand for diversifying assets imply further gains," said Luca Paolini,
chief strategist
at Pictet Asset Management.
This sentiment was also shared by StoneX analyst Rhona O'Connell in her latest note, "if we look at gold in real terms, deflating by the US CPI, then we are nowhere near an all-time high."
"The intraday high on 21st January 1980 (Iranian hostages, Afghanistan crisis, second oil crisis and the Hunts trying to corner silver) was, in today's money, $2,822 per ounce, so that at $2,040 we are still 28% below that high," Ms O'Connell continued.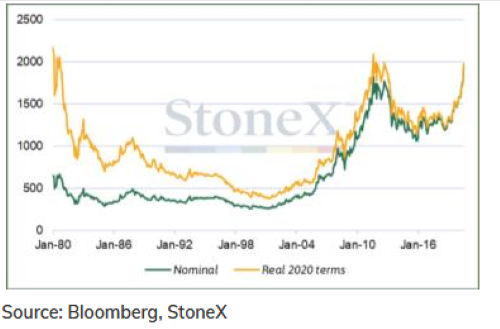 "We're seeing an ongoing deterioration in the US dollar, US yield curve dropping further and an increase in inflation expectations,"
said
Bart Melek, head of commodity strategies at TD Securities.
"This implies that for the foreseeable future, the opportunity cost of holding gold is going to get less and less."
The yield on 10-year Treasuries sank two basis points to 0.53% Thursday, while US 10-year real yields, which considers inflation, fell to an all-time low of minus 1.02 per cent this month.
The dollar index, which measures the greenback against a basket of global peers, slumped to a two-year low as investors weighed whether the US economic recovery from the coronavirus hit was lagging other major economies as private payroll growth slowed sharply in July said ADP, the payroll processor yesterday.
US jobless claims beat expectations and dropped to 1.2 million according to data published today. The government's official monthly employment report is due on Friday.
Gold prices for UK investors hit another all-time high of £1569.56 per ounce this Thursday, a year-to-date gain of 35%. The pound advanced to a five month high against the US dollar in FX markets after the Bank of England (BOE) held interest rate at 0.1% and the target for the total stock of its asset purchases remaining unchanged at £745 billion.
The BOE said the United Kingdom's economy would probably take longer to get back to its pre-pandemic size than it previously thought, but it was still weighing up the risks of cutting interest rates below zero to jump-start growth.
The Euro gold price also recorded a fresh high of €1743.31 per ounce Thursday morning, recording a 28% gain this year.
Looking at other precious metals, silver soared 5.8% on Thursday to $28.45 per ounce, a fresh 7-year high after rising 15.2% on a month-average basis in July – the fastest monthly pace since the UK's Brexit referendum in mid-2016. It has gained 57% so far this year.
That pushed the Gold/Silver Ratio down below 73, the lowest value for gold in terms of silver since April 2017.
The ratio topped out at 123 in March 2020 and has declined by 40% ever since. This is because silver has rallied by 140% from $11.64 during the same time period, outperforming gold's gain of 41%.
The iShares Silver Trust (NYSEArca: SLV) meantime swelled by 0.9% yesterday, needing an additional 159 tonnes of bullion at 17,808 tonnes – yet another all-time record,
equal to
72% of this year's projected world mining output.
At BullionVault, silver trading in July surged in both buying and selling – where investors trade silver free of VAT sales tax usually applied on the industrially useful precious metal, saving up to 20% compared to coins or small bars – with
total volume
rising 155.0% from June by value to hit a new all-time record of $83.3 million (£65.7m, €72.6m) across the month.
Platinum rose 2.4% to $987 per ounce but was still down 5% from this year's peak at $1041 in January 2020, widening its discount to gold to $1077 per ounce.
European stocks edged down in volatile trading, with the MSCI world equity index, which tracks shares in 49 countries, slipping narrowly into the red, with prospects of a fourth straight day of gains in doubt, as markets wait on what direction the US fiscal recovery package will take.
Top congressional Democrats and White House officials appeared to harden their stances on the relief plan on Wednesday, with few hints of compromise or that an unemployment benefit as generous as $600 a week would be reinstated.