Gold Prices Hit 1-Week High as Hamas-Israel War Spurs Geopolitical Fears
Monday, 10/09/2023 15:08
GOLD PRICES jumped more than 1% on Monday, extending Friday's rebound from new 7-month lows, while oil prices jumped but then trimmed an early 5% spike as Saturday's atrocities by Hamas terrorists in Israel sparked fears of a wider conflict, writes Atsuko Whitehouse at BullionVault.
After firing thousands of rockets into the Jewish state, the militant Islamist group stormed into southern Israel from Gaza in a surprise attack, murdering over 700 people – the worst number of casualties in a single attack inside Israel's borders since it was founded in 1948.
Israel formally declared war and responded with a huge bombardment of Gaza, also hitting targets in Lebanon on Sunday after Iran-backed Hezbollah militants fired mortars towards Israel.
"Geopolitical risk back on, so oil and gold should rally as traditional fear-and-geopolitical proxies," says a metals strategy note from Swiss refining and finance group MKS Pamp, also pointing out that many geopolitical rallies in gold prices have proven to be short lived.
Gold prices in the US Dollar today repeated Friday's $25 rally to touch a 1-week high at $1855 per Troy ounce as Asian markets opened this morning, before dropping back $10 by lunchtime in London .
Trading in US Treasury bonds stayed closed for today's Columbus / Indigenous People's Day holiday.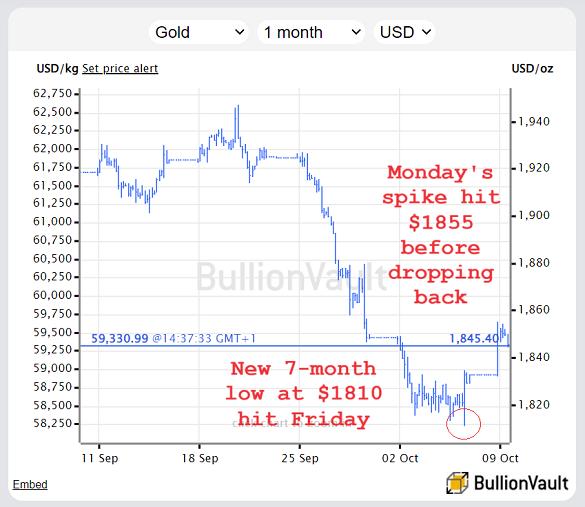 "Whether this is a massive market moment or not depends on how long [the violence] lasts and whether others are sucked into the conflict," says one wealth-management firm's chief economist.
The Jewish state faces a "long and difficult" conflict with Hamas, said Israel's Prime Minister Benjamin Netanyahu on Saturday.
US President Joe
Biden promised him "additional assistance"
in a phonecall, "with more to follow over the coming days" as White House defense secretary Lloyds Austin ordered US navy ships and military aircraft to sail closer to Israel's coast.
But "The Zionist regime and its supporters are
responsible for endangering the security
of nations in the region," claimed Iran's President Ebrahim Raisi, adding that his country "supports the legitimate defence of the Palestinian nation."
With gold prices rising at Monday's opening, oil prices surged as much as 5% to touch $89 per barrel of Brent crude before pulling back to just below $87.
Global stock markets slipped, with Europe's Stoxx 600 index down 0.2% and US stock futures pointing lower as the US Dollar and Japanese Yen rose and the Israeli Shekel sank 2.5% to an 8-year low after the Bank of Israel announced it would sell up to $30 billion of foreign currency to defend it in the open market.
Gold prices in Euros and UK Pounds surged 1.6% and 1.5%, also reaching 1-week highs above €1758 and £1520 per ounce respectively.
Gold prices in China, the metal's No.1 consumer market, also rose as the Shanghai Gold Exchange reopened following the Golden Week holiday, with the incentive for new gold imports from London – heart of the global bullion market's trading and storage network – rising to $88 per ounce.
That was a record-high premium when first reached in September's frantic SGE activity, when China's central bank refused to issue new import licenses in the face of rising consumer and investment demand.
Like gold, the
price of silver
– which finds nearly 60% of its annual demand from industrial uses – cut an earlier jump on Monday, trading back at $21.62 per ounce by London lunchtime.
With US politics already split over Washington's financial and military support for Ukraine in its war against Russia's invasion, "I am very worried about more explosive situations [in the Middle East] that require US determination and US defence capability which is being injured," says one chief investment officer at an advisory firm, after hardline Republicans last week joined with Democrat opponents to ousted Kevin McCarthy from his role as Speaker of the House of Representatives while
another

budget shutdown looms
.