Gold Price Hits Sept 2011 Highs at $1800 in US Dollars as ETFs Swell Fastest in 10 Years
Wednesday, 7/08/2020 14:00
GOLD PRICES rose back above $1800 in London's physical market on Wednesday, again tracking demand for gold-backed ETFs and touching the highest level in US Dollar terms since September 2011 marked the peak and end of a 10-year bull market in the precious metal.
World stock markets slipped for a second day in contrast, while US crude oil steadied above $40 per barrel and longer-term interest rates ticked higher as the UK government promised another raft of tax holidays and stimulus spending to try reversing the Covid-19 economic crash, and the World Health Organization warned that the novel
coronavirus may spread far more easily
than previously thought.
With the
live spot price of gold bullion
moving up through $1800 per ounce at 10:30 BST, that beat the highest level seen during London's AM benchmarking auction in almost 9 years.
Lagging a steeper rise to $1816 for the August Comex future – now the most active contract on that New York-settled derivatives exchange – physical gold bullion has another $120 to go before matching its all-time spot trading peak of 5 September 2011.
Gold has already set new all-time highs in 2020 for Chinese, Indian, German, Turkish and all other investors.
Driving this year's surge,
exchange-traded trust funds backed by gold
ended June needing a record 3,620 tonnes of bullion, says new data from the mining industry's World Gold Council, swelling by 39.1% in just 6 months.
Both by weight and by value, that marked the fastest half-year expansion since the global financial crisis began to recede in H2 2009.
Over the last 5 years, the changing size of gold ETFs and similar products worldwide – led by the giant SPDR Trust (NYSEArca: GLD) – has averaged a strongly positive correlation of 0.86 with the US Dollar gold price on a rolling 12-month basis, up from 0.66 over the prior 5-year period.
The 2015-2020 reading matches gold's famously strong connection to the price of silver, also now showing a median 0.86 since this point 5 years ago.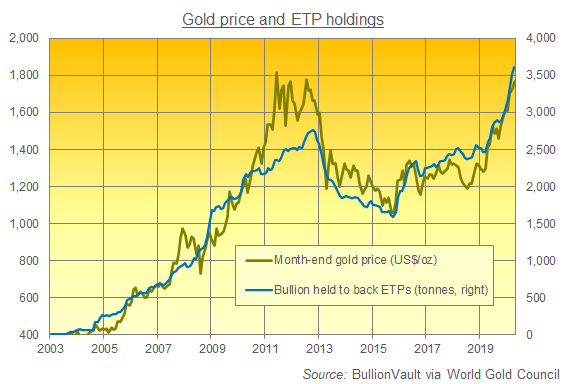 "The economic and geopolitical environment remains supportive for gold investment,"
says the World Gold Council
, reporting H1 2020's ETP growth, "with most of the existing gold demand drivers still relevant.
"The opportunity cost of holding gold remains low, as continued central bank activity keeps interest rates low or negative, while several countries continue to experience high levels of tension/unrest. And there are serious concerns that the trajectory of the Covid-19 pandemic threatens any nascent economic recovery."
Among gold's more typical buyers however, demand continues to struggle.
"Historically," says a note from analysts SFA (Oxford) written for refining group Heraeus, "a good rainy season boosts demand for gold in the second half of the year as rural spending is
increased by high agricultural output [and] also coincides with Diwali and the wedding season.
But while June's strong rainfall – almost one-fifth ahead of average – "would ordinarily signal healthy gold demand," SFA says, "India's economy is fragile...consumer spending is low...and [it's] unlikely to offset the damage sustained in the first half of the year."
Industrial precious-metal silver meantime hit a 19-week high above $18.50 on Wednesday, while platinum – which finds 2/5ths of its end-use demand from diesel-engine vehicles – moved to the top of its last 5-week range above $840 per ounce.