12.5% Gold Price Discount for Black Friday as US Fed Delays Rate Hike to 2024
Thursday, 11/26/2020 14:25
GOLD PRICES held little changed in London trade Thursday, moving just $3 per ounce either side of $1815 after new comments from the US Federal Reserve said it won't begin raising interest rates from zero until 2024, a year later than forecast just 2 months ago.
With US markets shut for Thanksgiving, gold priced in Dollars traded at a 12.5% discount to August's record high ahead of tomorrow's 'Black Friday' online retail spending spree.
European equities held flat for a second day from Tuesday's new 9-month high, still 6.7% down for 2020 so far.
Brent crude meantime edged back from 8-month highs at $49 per barrel, hit after the US Energy Information Administration said stockpiles in the world's No.1 economy shrank more than expected last week on heavy demand.
While still well below the pre-pandemic top of $70 per barrel, oil prices see Covid vaccines as
a "game changer"
according to London brokers PVM.
"The expected path for the federal funds rate over the next few years...was little changed" from
September's forecast
according to minutes from the Fed's latest policy meeting, released Wednesday.
But after the Fed's autumn predictions said the central bank's key interest rate would reach 0.4% by the end of 2023 – with inflation forecast to have reached the Fed's target of 2.0% per year – policymakers
meeting on 4-5th November
said rates will remain "close to" zero until then, while "survey-based expectations favored the first increase in the federal funds rate to occur in 2024."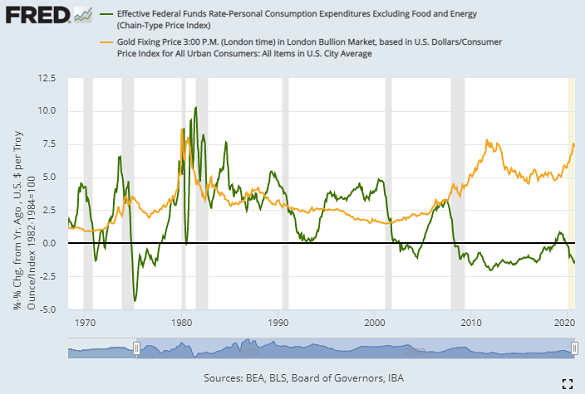 Adjusted for US consumer-price inflation, the real price of gold has risen over 45% since the Fed ceased its post-financial crisis rate hikes in March 2019 and then began cutting in August last year, some 6 months before the global Covid Crisis began.
Adjusted by core PCE inflation – the Fed's preferred measure – effective Fed Funds rates have fallen by more than two percentage points in real terms over the last 20 months.
"The decline in gold prices is a mere 'bump in the road'," says a note from analysts at Swiss bullion bank Credit Suisse.
"The factors that supported the rise in price remain in place: monetary and fiscal policy remain accommodative and expansionary, low US real rates and a sliding US Dollar."
But "The gold and silver markets
are running out of air
," counters smaller Swiss bank Julius Baer, saying that with "a continued improvement of the economic environment next year, safe-haven demand should fade."
"Since the 2007 financial crisis inflation has gone down and the gold price has gone up. I think it would need a significant rise in inflation to change that relationship, something I do not expect.
"When Joe Biden is in the White House, I would expect gold to decline."
Now putting his White House team together, Biden said that America is "at war with the virus, not one another" in a speech for Thanksgiving yesterday.
Giant US-listed gold ETF the SPDR Gold Trust (NYSEArca: GLD) meantime shrank again Wednesday, taking its net outflows since the Pfizer vaccine news of 9 November to 5.3%.