Gold Price Drops to 2011 Peak as Banking Scandal Whacks Stock Markets, Covid Pandemic Worsens
Monday, 9/21/2020 15:06
GOLD PRICES dropped to the 2011 peak of $1920 per ounce Monday in London as the US Dollar jumped while European stocks fell hard amid banking scandal allegations and a surge in new coronavirus cases across the region, writes Atsuko Whitehouse at BullionVault.
After making a 2nd consecutive weekly gain on Friday, spot gold prices dropped 1.4% to hit the lowest in nearly 2 weeks as the Dollar Index - a measure of the US currency's value versus its major peers – rose from its 2nd consecutive weekly decline.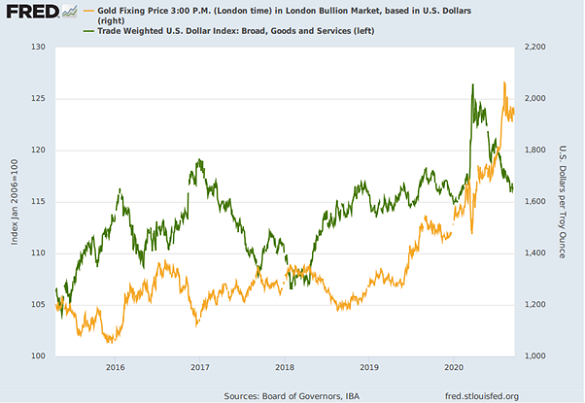 European shares meantime fell the most since July as allegations surrounding bank dealings and rising coronavirus infections hit market sentiment.
The pan-European Stoxx600 dropped nearly 3% by Monday lunch time, with HSBC Holdings (LON: HSBA) dropping to its lowest since 1995 and Deutsche Bank AG (ETR: DBK) dropping more than 7.5% as travel stocks also sank, down 4.8% to lead losses across all sectors and major bourses.
US stock futures dropped sharply, suggesting that the major benchmark indexes may extend their retreat into a 4th consecutive week with bipartisan negotiations for a second Covid stimulus bill
looking more complicated after
the death of liberal-leaning Supreme Court Justice Ruth Bader Ginsburg at the weeknd.
"Last week's high and unusual positive correlation with US stocks may, until its broken,
potentially see gold trade weaker
with equities on the defensive following Friday's weak close on Wall Street," says derivatives platform Saxo Bank's commodity strategist Ole Hansen.
Monday's slump in banking stocks meantime came after leaked documents called FinCEN (the US Financial Crimes Enforcement Network) involving about $2 trillion of transactions showed that some of the world's biggest banks have allowed criminals to move dirty money around the world.
A new investigation by the International Consortium of Investigative Journalists (ICIJ) says J.P.Morgan, Deutsche Bank and several other global banks "kept profiting from powerful and dangerous players" in the past two decades even after the US imposed penalties on these financial institutions.
Between 2012 and 2015, nine big banks paid a total of $20 billion in fines for money laundering.
Gold prices for UK investors
today declined 0.9% to £1496 per ounce even as the government's chief scientific adviser warned Monday lunchtime that the UK could see 50,000 new coronavirus cases a day by mid-October without further action, likely including another national lockdown.
Euro gold prices were also down by 0.8% to €1633 per ounce as several European countries, such as Spain, Greece, Denmark, and France announced new coronavirus restrictions in some of their largest cities after recent surges in infections.
The European Central Bank has launched a review of its pandemic bond-buying program (PEPP), Financial Times reported over the weekend, looking at how long it should continue and whether its flexibility should be extended to older programs.
Silver dropped further than gold prices on Monday, down by 2.3% to $26.17 per ounce and pushing
the Gold/Silver Ratio
– which tracks the two formerly monetary metals' relative prices – up further above 73, the highest value for gold versus silver in more than a month.
Platinum prices also declined, down nearly 2.4% to $910 per ounce and holding a discount to gold of $1017 per ounce.
Monday's rise in the Dollar's FX value came ahead of US Federal Reserve chairman Jerome Powell testifying before Congress from Tuesday to Thursday, explicitly talking about pandemic relief efforts.